Wang Liqin wins Qatar Open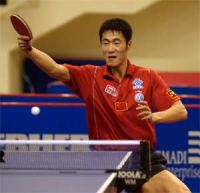 Ma Lin is runner up
In 1998 Wang Liqin won his first Men's Singles title at an ITTF Pro Tour tournament, he won at the Lebanon Open. On Friday 17th February 2006, he won for the twenty-second time when he was crowned champion at the Liebherr Qatar Open in Doha, beating colleague Ma Lin in the final.
Wang Liqin won 11-7, 11-8, 11-4, 9-11, 3-11, 11-9.
The record of successes on the ITTF Pro Tour is exactly the same as Zhang Yining, both have twenty-two singles titles to their credit and both have emerged successful at the ITTF Pro Tour Grand Finals on three occasions.
Nearest to Wang Liqin is Vladimir Samsonov of Belarus who has won on thirteen occasions whilst one place below is Ma Lin with twelve titles to his name. The success of Wang Liqin on the ITTF Pro Tour is without parallel in men's table tennis; therefore, it is somewhat ironic that he has never won the Men's World Cup, the most successful player in that competition being Ma Lin who has won the event three times.
Regular Adversaries
Wang Liqin and Ma Lin have been regular adversaries since they first met at the Panasonic China Open in September 1998, the meeting in Qatar on Friday 17th February 2006 was the twenty-first time they had met in a World Ranking event and honours are quite even.
The advantage is with Wang Liqin but only just, he has now won twelve of the encounters. However, when they have met in a final, the balance of power is much different, of the ten times they have now confronted each other in a final Wang Liqin has won on nine occasions. The only occasion when Ma Lin emerged victorious was in the final of the Men's Singles event at the ITTF Pro Tour Grand Finals in 2001, on that occasion Ma Lin prevailed in a close seven game duel.
Pleased
Victory for Wang Liqin meant that all four titles went to China, they had displayed their class and Tournament Director, Abdulla Al-Mulla, was understandably pleased that the elite of World table tennis had graced the tournament. "It's been the most successful Qatar Open tournament ever, the Chinese dominated the tournament", he said. "No doubt we'd have liked to have seen a European play a Chinese in the Men's Singles final but credit to Wang Liqin and Ma Lin, they contested a really great final; both were very strong and it was a very exciting match."
Wang Liqin and Ma Lin showed their class, they are two of the most successful players of the modern era but what of the local players, had they benefited? "We had ten players from Qatar in the tournament and they all were involved in good matches", continued Abdulla Al-Mulla. "They played some very good players, some highly ranked players, I hope they have learnt from competing."
I'm sure they have learnt, it was a week that saw a plethora of exciting table tennis and a week where the Chinese proved yet again that they are at the pinnacle of the sport and that they set the standards for others to follow, very high standards indeed.
Photo: Wang Liqin, the Men's Singles champion at the Liebherr Qatar Open
Related Articles:

Spanish Open: Oh Sang Eun Beats Local Hero

Polish Open: Lee Sang Su Overcomes Alexander Shibaev

German Open: Zhang Jike Proves Unbeatable

UAE Open: Four Titles for Fourth Time for China

China Supreme in Qatar

English Open: China Totally Dominant

Slovenian Open: New Generation Strikes Gold in Velenje

Jun Mizutani Captures KAL Cup Pro Tour Grand Finals Men's Singles Crown

Polish Open: Winners Secure Passports to Grand Finals

Austrian Open: Sensational 24-year old Apolonia defeats Boll in final