Generations Apart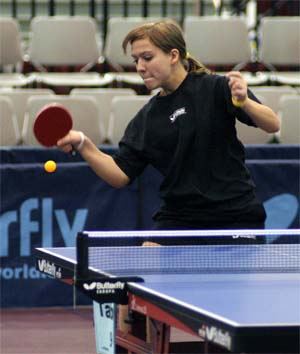 Monday, January 09, 2006
Africa, Latin America and Oceania are all continents that have made distinct progress in trying to narrow the gap on Asia and Europe; the three continents all have promising young players who, at events that formed part of the ITTF Global Junior Programme in 2005, impressed.

Similarly, North America has promising teenagers with Canada's ZHANG Mo the continent's most successful in 2005 on the ITTF World Junior Circuit but could 2006 be the year for the United States?

Olena SOWERS impressed at the ITTF World Cadet Challenge in October and if we consider their senior players then few can match the record of GAO Jun on the ITTF Pro Tour in 2005. Olena SOWERS and GAO Jun are generations apart but both will no doubt be formidable opponents in 2006.

Scholarship
Olena SOWERS was on duty for North America at the World Cadet Challenge in 2005 and impressed to such an extent that for 2006 she has been awarded one of the five Butterfly Scholarships on offer.

She originates from the Ukraine and is now an American citizen living in Athens, Ohio, having lived in the United States since the age of eight. A member of the United States national cadet team she has gained very creditable results in North American tournaments and was the runner up in the Cadet Girls' Doubles event with Stephanie SHIH at the Stag Canadian Junior Open in Richmond in August, the pair losing to the Canadians, Lisa LI and Shirley YAN in the final.

Canadian Success
It was a tournament that proved successful for the Canadian cadet girls who, in addition to their doubles success, clinched the Cadet Girls' Team title whilst Shirley YAN won the Cadet Girls' Singles title with Lisa LI a semi-finalist. However, pride of place in Richmond must go to ZHANG Mo.
She won all three titles for which she was eligible, the Girls' Singles plus the Girls' Doubles and the Girls' Team event with Sara YUEN.

Furthermore, she reached the first round of the main draw in the Women's Singles event at the Liebherr Slovenian Open and was one of the twelve girls who participated in the ITTF World Junior Circuit Finals in Santo Domingo.

Harbin
Also present in Santo Domingo from Canada was SHEN Qiang who reached the semi-finals of the Cadet Boys' Singles event before losing to the eventual winner, Kenta MATSUDAIRA.

SHEN Qiang lives in Ottawa and he has been in Canada for a year. He hails from Harbin in Heilongjiang Province in the north of China; it is the same area from where Chris XU, a member of the Canadian women's team, originates and it's also the part of the world where ZHANG Peng was born. The latter, now resident in Canada, was formerly a member of the Chinese national team and on the ITTF Pro Tour in 2005 proved a formidable opponent.

Today
Young players like Olena SOWERS, ZHANG Mo, Shirley YAN, Lisa LI and SHEN Qiang are the future for North America but what of today? One name above all others comes immediately to mind, the incomparable GAO Jun.

A resident now for some years in the United States she clinched major titles in 2005 and moved up the Women's World Ranking list; at the start of 2005 she was ranked no. 15, in July and August she was no. 10 and when the rankings for January 2006 were announced she was no.11.

GAO Jun was winning medals at major international events before players like Olena SOWERS were born and in 2005 the vastly experienced American enjoyed one of her most successful years ever. She won the Women's Singles title at the TMS Chinese Taipei Open and with SHEN Yanfei of Spain clinched the Women's Doubles title at the same tournament, repeating the doubles success at the Volkswagen Pro Tour Grand Finals in December.

Almost Unique
A player representing a country outside Asia and Europe and winning on the ITTF Pro Tour is almost unique, in fact, it's only ever twice before and on both occasions by Canadians. In 1996 GENG Lijuan and Barbara CHIU, representing Canada won the Women's Doubles title at the US Open in Fort Lauderdale in 1996, whilst in 1997 Johnny HUANG clinched the Men's Singles title at the Polish Open.

Cool, calm and collected GAO Jun will no doubt continue to be a formidable opponent in 2006 and for younger players from North America, she sets a splendid example; her style of play may be considered to be from a bygone era but her approach, her attitude, her tactical awareness are exemplary and for young players like Olena SOWERS a model to emulate.
Image: Olena SOWERS impressive in 2005 and looking for success in 2006
Source: ITTF.com
---
Related Articles:

Timo Boll writes his name in history books

Sensational Singapore in Moscow

Samsonov wins his 3rd World Cup

Michael Maze and Wu Jiaduo are European Champions

Obama Purchases Stiga 410Q Table Tennis Table

Vote for Biba!

Wang Hao is new World Champion

First WTTC without speed glue

Killerspin signs India no. 1

Table Tennis on TV (US Only)