Table Tennis Movie wins Amazon / Tribeca Award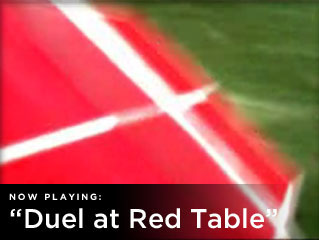 "Duel at Red Table" wins Amazon/Tribeca Short Film Competition
Sunday, November 27, 2005
Jack Paccione Jr's short film, "Duel at Red Table," has been selected as the winner of the Amazon/Tribeca Short Film Competition. "Duel," featuring a table tennis match between a man and the devil for a young girl's soul, was featured in a story on megaspin.net several weeks ago.
Paccione feels it was the help from the table tennis community that pushed his film over the top.
"No question about it," says Paccione, 32. "Table tennis players and fans voted in droves. We received emails from table tennis halls all over the country. All the support was awesome, just awesome. I'm very appreciative."
Paccione plans to spend the entire $50,000 grand prize on film equipment. Which begs the question: what's his next project?
"Originally I wanted to do a longer table tennis movie, but there's one coming out in the theatres soon called 'Balls of Fury,' so we're going to have to wait and see if it's too similar to what we were planning. So my next project is a feature length comedy called 'Worst Movie Ever'."
Paccione isn't quite done with the film competition scene.
"Right now I have a 64-second short playing in a Dreamworks competition. The topic was 'waitlessness,' which was kind of tricky, but I think we did okay. It's about an unfortunate turned fortunate incident with a bee. Let's leave it at that."
The film is called "Route 24," and can be viewed on www.64seconds.com.

---
Related Articles:

Timo Boll writes his name in history books

Sensational Singapore in Moscow

Samsonov wins his 3rd World Cup

Michael Maze and Wu Jiaduo are European Champions

Obama Purchases Stiga 410Q Table Tennis Table

Vote for Biba!

Wang Hao is new World Champion

First WTTC without speed glue

Killerspin signs India no. 1

Table Tennis on TV (US Only)