Table Tennis Movie - Award Finalist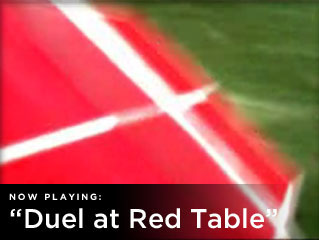 Duel at Red Table - $50,000 Prize Finalist
Wednesday, October 12, 2005
megaspin.net Special Feature -
Duel at Red Table, a seven-minute short film featuring an action-packed table tennis match, has been named one of five finalists in the second Amazon/Tribeca Short Film Competition. Duel, which beat out 300 other entries for this honor, can be viewed at the following website until October 28th, when voting ends:
In order to cast your vote you need to have an Amazon account. If you do not, the above link will connect you to a login screen; you can easily create an account by entering your email address, clicking "new customer," and entering a password.
At this point you will be taken to the Tribeca Screening Room. In order to vote, you need to watch the five finalists in random order; they range in length from 90 seconds to seven minutes. At the end of each movie, you will be allowed to click on a rating from one to five stars.
After October 28th, the film with the highest average rating will win a $50,000 pre-paid credit card from American Express, to be used for a future film project.
The Director
After his very first movie project, Misfortune Cookie, placed second in the original Amazon/Tribeca short film competition, director Jack Paccione Jr. knew there was no turning back.
"I always wanted to be a filmmaker," says Paccione, who currently owns a computer repair shop in Brooklyn, NY. "Ever since I was a kid, watching Steven Spielberg, George Lucas, martial arts movies. When Misfortune Cookie got all the attention it did, it was like—maybe there's a chance for me. A small one, but a chance."
Misfortune Cookie is a fast-paced comedy about an obnoxious customer in a Chinese restaurant who receives the following message: "You have two minutes to live." The majority of the film is what happens in those two minutes, played out in real time.
"I was really fortunate with the first film [Cookie], because I had a clever story to work with and a terrific lead actor in Shawn Ramos. But it was more of a learning process for me—I made so many mistakes. For the next movie, I wanted to do something a little more challenging. Something different, but with a lot of action."
The writer of Misfortune Cookie, Jerry White, had a suggestion: "What about the table tennis movie?"
The Movie
Paccione and White have been close friends since kindergarten, and in addition to a love of movies, the two share a lifelong passion for table tennis.
"Most of our best ideas come when we're pounding the ball at each other in his basement," Paccione says, laughing.
Then, mock seriously: "I always win."
Both friends had always loved the idea of filming a movie about table tennis; the up-close, in your face action and constant motion seemed ideal for cinema.
Unfortunately, they had to reject a more realistic approach right away. "We filmed without a budget, so hiring actors was out of the question. And our friends who do act aren't exactly table tennis masters. A straight sports movie would have looked ridiculous."
Luckily, White had another idea. Taking Paccione at his word that he wanted to do something "completely different," White suggested crossing table tennis with the horror and comedy genres.
"The idea was this guy, Devin Candle—he's the best table tennis player in the world and he knows it. He goes into the woods and meets this player in a black cloak—kind of like the devil—who promises to give Devin his powerful paddle if he can defeat him. But if Devin loses, the devil gets to take all his skill."
Though the movie itself is all about the match (backed by a spirit-rousing score composed by Paccione), the story traces the arc of Devin's redemption, as he learns that some things are more important than winning.
"The little girl [Eliot Schiaparelli] was a really key twist for us," says Paccione. "She gives our movie its heart."
Filming
Duel at Red Table was filmed over six days in the bug-infested swamps of Staten Island.
"By the end of the day we all really smelled," says assistant director Robert McCormack. "My clothes, my hair. Everything. I still have some bug bites. I think they're permanent."
"The first few days were really fun," says Paccione. "Sean [Walsh] and Eddie [Fontana] really got into the roles, staying in character and ad-libbing between takes. But after a few days, it became less like fun and more like work. The stunts the last day were really hard. I had to make Sean dive in the dirt like five time in a row. But he never complained."
McCormack adds: "You can question Sean and Eddie's athletic ability. But not their dedication."
Editing took approximately a week. Paccione finished twelve hours before the contest deadline.
"There were a few things I didn't have time to add, but overall I'm really happy with it. The cast and crew all did amazing work. Even if we don't win, everyone should be really proud."
The Contest
Paccione wasn't sure how Duel would sit with a mainstream audience, and he admits to being "pleasantly surprised" when he found out he made the finals again.
"I think it's the table tennis element," says Paccione. "It really struck a chord with people. You can tell from the reviews, people are really excited to see a movie about table tennis."
With this in mind, Paccione has decided to film a full-length table tennis movie, if Duel wins the $50,000 Grand Prize.
"It's amazing, when you think about it. Baseball has Field of Dreams, Bull Durham. Basketball has Hooisers. Hockey has Slapstick. There's been a great film made out of every major sport, except table tennis—which in my opinion is the most exciting to see on film!"
Paccione is quick to mention Ping Pong, a big hit in Japan, which he "enjoyed immensely." It is, however, far different from what he imagines.
"We want to make a hardcore, ultra-realistic movie, for serious fans of the sport besides just a regular audience. We're already researching, watching professional matches, learning the terms. If we can somehow get a budget, we're going to make the first great table tennis movie. It's time."
You can vote for Duel at Red Table until October 28th at www.amazon.com/screeningroom.
---
Photos (move your mouse over the thumbnails to enlarge)






---
Read what others have to say:
My Email
Posted by Jack Paccione Jr on 4/8/2007 3:49:00 AM
a lot of people have many questions for me about 'DUEL'. Please email me at jackpaccionejr@hotmail.com to talk! Thanks!
Related Articles:

Timo Boll writes his name in history books

Sensational Singapore in Moscow

Samsonov wins his 3rd World Cup

Michael Maze and Wu Jiaduo are European Champions

Obama Purchases Stiga 410Q Table Tennis Table

Vote for Biba!

Wang Hao is new World Champion

First WTTC without speed glue

Killerspin signs India no. 1

Table Tennis on TV (US Only)