It's Official: 7 sets, 11 points, 2 serves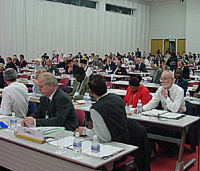 New serve rule as of September 2002
Friday, April 27, 2001
At the Annual General Meeting held at the World Championships in Osaka, two propositions passed by a large majority:
Playing to 11 instead of playing to 21.
A game will end when one player reached 11 points. A player still has to win with at least two points. The service will change every two points and a match will comprise of 4 out of 7 games or 5 out of 9, depending on the competition.
The rule change will be implemented 1 September 2001 and its aim is to increase the number of crucial points in a match.
Change of the service rule.
There should be nothing between the ball and the entire net from the moment when the ball is presented in service until the server hits the ball.
The rule change will be implemented 1 September 2002 and is made to make the ball visible to the receiver during the service. With the current rule, many players are "hiding" the ball with their body or their arm when they hit it. This makes it impossible for the receiver to recognise the spin of the ball.
The ITTF President Mr. Adham Sharara is very happy with the changes:
"I am very happy that we can now implement the whole package of rule changes that we planned some years ago. We already changed the size of the ball from diameter 38 mm to 40. Now it is time to take the next steps to be ready for the future".
"I believe it will improve the game. I know that some players and coaches might be against the changes, but this is only natural. As a players you don't like changes. I am sure they will adapt. If today you give them a 38 mm ball, they can't believe they ever played with that kind of ball".
"Yes table tennis has taken too long to make changes. But this is perhaps the nature of man, we talk a lot about how to change and improve the game, and then when we have to take decisions we become afraid."
---
Related Articles:

Timo Boll writes his name in history books

Sensational Singapore in Moscow

Samsonov wins his 3rd World Cup

Michael Maze and Wu Jiaduo are European Champions

Obama Purchases Stiga 410Q Table Tennis Table

Vote for Biba!

Wang Hao is new World Champion

First WTTC without speed glue

Killerspin signs India no. 1

Table Tennis on TV (US Only)