Bolls wins Japan Open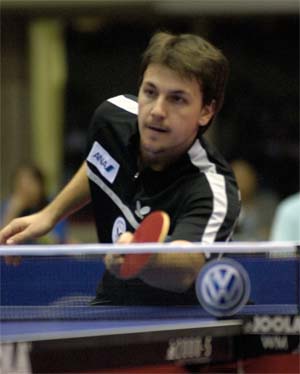 Second Tme in Japan
Volkswagen Open - Japan, Yokohama
RYU Seung Min of Korea and Timo BOLL of Germany were the two players contesting the Menís Singles final at the Volkswagen Open Japan in Yokohama on Sunday 25th September 2005.
The Korean is the reigning Olympic champion but against Timo BOLL he has experienced problems in the past.
Every time the two had met previously in World Ranking events, Timo BOLL had always won.
Timo BOLL, the Men's Singles champion at the Volkswagen Open Japan in 2005
The first meeting had been in October 2001 at the Netherlands Open when Timo BOLL had prevailed in straight games in the round of the last thirty-two; the second meeting had been in the semi-finals of the Liebherr World Team Championships in Doha in 2004 when Timo BOLL had won again in straight games.
Meanwhile, the third duel had taken place in the European Champions League, the second semi final match between GŲnnern and NiederŲsterreich, when the German had won in seven games.
Start
In Yokohama, in the final of the Menís Singles event, Timo BOLL made the better start. He won the first two games 11-9, 12-10.
The German attacked quickly after the service; left handed his forehand topspin went like lightning across the diagonal into the body of RYU Seung Min. Timo BOLL, as MA Long had done earlier in the day, usually attacked RYU Seung Minís backhand at the earliest opportunity. RYU Seung Min was always under pressure trying to play his powerful forehand.
Confident
Full of confidence Timo BOLL won the third game 11-4 and in the fourth established a 6-4 lead when a RYU Seung Min forehand finished in the base of the net. The Korean won the next point but Timo BOLL restored the two point advantage to go ahead 7-5.
RYU Seung Min kept trying but could never gain a lead. BOLL led 9-7 and was serving; a weak service return by RYU Seung Min; BOLL attacked ferociously and somehow the Korea blocked the return wide and out of reach of BOLL.
Title
The next point RYU Seung Min played and electrifying forehand to win the point but that was his last he won. The next two points went to Timo Boll and the German was the champion.
It was the second time he had won in Japan, in 2003 he had won the ITTF Pro Tour Japan OPen, in 2005 he regained the title. He was the winner of the Menís Singles title at the Volkswagen Open Japan 2005.
Note
There was no player from China in the Menís Singles final, an unusual occurrence but they were all there with coaches to watch the final. The fact their male players didnít make a final was news, a refection of their stature in table tennis. I suspect they have taken note and perhaps others might be well advised to the same
Timo BOLL (GER) bt RYU Seung Min (KOR) 11-9, 12-10, 11-4, 11-8
Image: Timo BOLL, the Men's Singles champion at the Volkswagen Open Japan in 2005
Related Articles:

Spanish Open: Oh Sang Eun Beats Local Hero

Polish Open: Lee Sang Su Overcomes Alexander Shibaev

German Open: Zhang Jike Proves Unbeatable

UAE Open: Four Titles for Fourth Time for China

China Supreme in Qatar

English Open: China Totally Dominant

Slovenian Open: New Generation Strikes Gold in Velenje

Jun Mizutani Captures KAL Cup Pro Tour Grand Finals Menís Singles Crown

Polish Open: Winners Secure Passports to Grand Finals

Austrian Open: Sensational 24-year old Apolonia defeats Boll in final