TT Film awarded at Sports Film Festival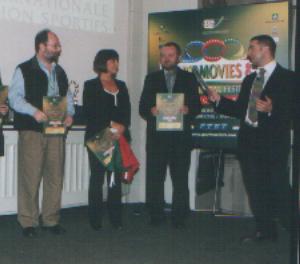 Film won People's Choice Award
Friday, November 05, 2004
ITTF Press Release
The ITTF film "Breaking Down Barriers with Table Tennis Balls - Ishraq" gained recognition at the 2004 FICTS awards at the Gala Awards night at the annual International Sports Movies and TV Festival held in Milan, Italy, on 3 November.
The table tennis film was entered in the category "Sports Society and Solidarity", which is one of the seven (7) categories of the Sports Film and TV Festival. More than 400 films were entered in the festival this year and 5 films were selected by a jury as finalists in each of the seven categories.
The finalsits in each category were invited to attend the final Gala evening where a trailer was presented for each film in each category and then the winners were announced. For each category there was also a "People's Choice Award", which was decided through voting on the FICTS web-site.
Our film "Breaking Down Barriers with Table Tennis Balls - Ishraq" received 92% of the on-line votes and thus won the People's Choice Award for that category. In addition, the film won the "Honourable Mention Award".
ITTF President, Adham Sharara, was on hand to receive both awards.
The overall "Best Film Award" was awarded by the Jury to the film from China entitled "Dancing Beijing". This was an extraordinary sports film prepared and entered by Beijing 2008 on the occasion of the Olympic Games coming to Beijing in 2008. Congratulations to China and to the Beijing Organizing Committee of the Olympic Games (BOCOG) whose Vice President, Mr. Yang Shuan, is also the Vice President of the ITTF.
The ITTF now looks forward to entering its brand new film "Breaking Down Barriers with Table Tennis Balls - Afghanistan" in next year's festival.
Thanks are due for the production of the film to Glenn Tepper, ITTF Development Manager, Sanya El-Aroussi, TMS Middle-East representative, Nadia Zibani, Population Council Coordinator, Egypt Table Tennis Association and the people of El-Minia.
---
Read what others have to say:
Related Articles:

Timo Boll writes his name in history books

Sensational Singapore in Moscow

Samsonov wins his 3rd World Cup

Michael Maze and Wu Jiaduo are European Champions

Obama Purchases Stiga 410Q Table Tennis Table

Vote for Biba!

Wang Hao is new World Champion

First WTTC without speed glue

Killerspin signs India no. 1

Table Tennis on TV (US Only)