Zhang Yining wins Women's Singles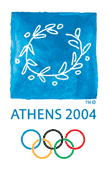 Second gold medal for China's no.1
Monday, August 23, 2004
ITTF Press Release
China's world no.1 and Olympic top seed, ZHANG Yining, 22, fulfilled her rating by defeating KIM Hyang Mi, 24, from the People's Republic of Korea, 11-8, 11-7, 11-2, 11-2, to win the Athens Olympics women's singles gold medal. It is ZHANG's 2nd gold medal – she had already won the women's doubles with WANG Nan – and China's 3rd table tennis gold medal of the Athens Olympics.
Earlier in the competition, KIM, who is relatively unknown outside of her country, had caused opponents problems with her sharp punched backhand using strange medium length pimples, and it took ZHANG the critical 1st game to get the measure of how to play against it.
ZHANG took that game and the 2nd was fairly close, but by the 3rd and 4th games she could win the point at will, spinning mainly forehand loops and some backhand loops all over the table, and picking off big winners.
Nothing KIM could do, not her sharp backhand or her looped forehand, could in way trouble ZHANG who raced away for an easy victory. An absolutely delighted ZHANG acknowledged the support the large and vocal Chinese contingent in the crowd. KIM should be happy with coming from relative obscurity to secure silver for the Democratic Peoples Republic of Korea.
LUYUAN Sheng, the ZHANG's (Chinese) coach, commented, "She played very good. We had a big conversation today and I tried to prepare her mentally for the match, making her believe she is the best. We have never played against her (KIM) before and I made a full research of ZHANG's opponent. Finally she won."
---
Related Articles:

Teams may replace doubles in 2008

Ryu Seung Min wins Gold for Korea

Wang beats Waldner for bronze

Ryu's speed too much for Waldner

Youngest Ever Table Tennis Gold

Second doubles gold for China

Waldner beats Boll to reach Semi Final

Wang and Zhang win doubles gold

Olympic and world champion out

Fantastic Waldner