Fantastic Waldner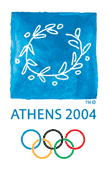 Waldner in quarter finals
Thursday, August 19, 2004
ITTF Press Release
38 year old Swedish legend Jan-Ove WALDNER, the 1992 gold medallist, said that he thought he had a small chance of doing something, and last night outside the Galatsi Olympic Hall, the waiting drivers heard the roar of the crowd and knew something was happening. That something was WALDNER sensationally knocking out the no.2 seed and world no.2, MA Lin, 14 years his junior, 11-9, 12-10, 7-11, 11-5, 11-9, in the Olympic men's singles 4th round.
It was WALDNER, rolling back the years, at his very best. He served mostly tightly, but occasionally produced very fast serves long to the penholder MA's forehand, and if MA managed to loop it, WALDNER looped it back with interest.
The Swede's loop was ferocious, from short returns and long returns and hooking and fading to extreme angles all over the table. This forehand was backed up by a reliable and versatile backhand block and loop, so that MA could not keep him out, and a deftness of touch in short and long pushes which made it difficult for MA to attack himself. But MA, although unsettled, was always courageous and dangerous, and took any opportunity to get in with his own massive forehand loop, plus his unusual brand of penhold topspins.
However, although WALDNER lost only the 3rd game, one rally in it underlined his dominance. At 2-1 up he played 2 consecutive hooked loops to the extremity of MA's forehand. MA lobbed back the 2nd loop, and WALDNER crashed a devastating sidespin kill that sailed past MA over the barriers on his backhand.
The Chinese corner called time-out when MA was still 9-8 up in the 5th game, but to no avail. WALDNER delicately touched returned a MA service, and the Chinese netted the ball. With WALDNER serving, he took the next 2 points for a sensational victory. The crowd, which included the great American 9 times athletics gold medallist, Carl Lewis, once again roared its approval. Almost unnoticed were great matches on adjacent tables, where world champion Werner SCHLAGER (Austria) was losing (4-3) to Timo BOLL (Germany) and European champion Vladimir SAMSONOV was losing(4-3) to LEUNG Chu Yan (Hong Kong).
Jan-Ove WALDNER spoke about his performance afterwards: "I have lost to MA in many tough matches. It was the perfect revenge. I felt no pressure today compared to yesterday. It was a very hard match. I thought it would be a match of at least 6 games so to win in 5 is a bonus. It was important that I won the first game. My backhand strokes worked perfectly.
When I got in the hall the spectators' reception was unbelievable. It was fantastic to have the crowd behind me. It is the best shape I have been in since 2000 or 2001 but to produce my form in matches is difficult. I nearly did not get to the Olympics. I was no.5 in Sweden and they nearly did not send me. I only got in because of my world ranking.
My tactic was to mix my game and play unexpectedly, and I was mentally very strong. For example, when the score was 10-8 in the 1st game I lost a service but after that I tried a long ace. In the 2nd game I was very lucky with 4 or 5 net cords. It was tough for MA and I think he was a bit nervous. I was well prepared to play good. I always thought I had a small chance to do something but it was fantastic beating MA."
Peter STERNEBORG, Swedish coach added, "WALDNER has now beaten 3 generations of Chinese players. He needs to motivate himself and has practiced unbelievably hard before the Olympics, in Sweden and in Italy, with players like SCHLAGER and BOLL.
In the match he made the right decision every time it was close, each important point he made the right decision. I am not so surprised he played so well. He has been playing fantastically well in practice, but it is not the same as playing well in the match."
WALDNER next plays former world no.1, Timo BOLL of Germany.