Olympic Singles Draw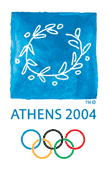 Exciting matches ahead
ITTF Press Release
China's WANG Liqin and ZHANG Yining head the respective Athens Olympics men's and women's singles draws, with their compatriots MA Lin and WANG Nan the respective number two seeds.
If everything goes according to seeding WANG Liqin is due to face local Greek hero Kalinkos KREANGA in the quarter finals and Chinese teammate WANG Hao in the semi finals, but although WANG Liqin is probably the best player in the world against fellow Chinese, he sometimes gets nervous against Europeans. The all-action KREANGA with the crowd behind him could cause WANG some anxiety, but first the Greek will have to dispose of the one former world champion who has not won an Olympic medal, Jörgen PERSSON (Sweden), in the last 32.
Former 1992 Olympic champion Jan-Ove WALDNER, now 38, is drawn to play 2nd seed MA Lin, against whom he has a poor record, in the last 16, but when the odds are stacked against him the gifted WALDNER has produced some of his best performances. The winner is likely to face either current world champion Werner SCHLAGER (Austria) or former world no.1 and European champion Timo BOLL (Germany), who face a titanic, evenly matched, all-European clash with each other in the last 16. Should SCHLAGER and MA, both win, then SCHLAGER will take some confidence that he beat MA in the last World Team Championships in Doha, Qatar this year.
The 3rd men's singles seed is Korean RYE Seung Min who is drawn in the same quarter as possibly Europe's highest medal hope, former world no.1 Vladimir SAMSONOV from Belarus.
Europe's greatest hope in the women's singles, Tamara BOROS (Croatia), who has never been European champion, faces European champion Otilia BADESCU (Romania) in what promises to be another enormous battle in the last 32 of the women's singles. However, the winner will be in the same quarter as top seed ZHANG Yining! In the same half the best women's defender in the world, KIM Kyung (Korea) has her worst nightmare in being drawn to meet perhaps the best hitter against chop in the world, GAO Jun (USA), a short pimples penholder. But first the 35 year old GAO will have to defeat the rising teenaged star from Japan, Ai FUKUHARI.
WANG Nan, the second seed, should play a former Chinese team-mate LIN Ling (Hong Kong) in the last 16. At the same stage of the same half, the third seed NIU Jianfeng (China) is due to clash with the gifted but unpredictable left-hander from Romania, Mihaela STEFF. In the previous round NIU will have to have defeated German Eke WOSIK, who has a good record against Chinese.

Related Articles:

Teams may replace doubles in 2008

Ryu Seung Min wins Gold for Korea

Wang beats Waldner for bronze

Zhang Yining wins Women's Singles

Ryu's speed too much for Waldner

Youngest Ever Table Tennis Gold

Second doubles gold for China

Waldner beats Boll to reach Semi Final

Wang and Zhang win doubles gold

Olympic and world champion out