Charleroi win Euro Champion's League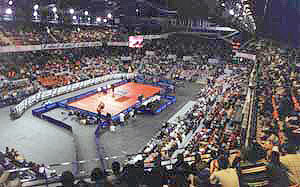 Team made up of Samsonov, Chila, Saive
Sunday, May 02, 2004
ITTF Press Release
Royal Villette Charleroi wins European Champion's League by defeating TTC Zugbrücke Grenzau in both "home" and "away" Final matches.
- 23 April, 1st Final Match in Charleroi: 3-1 for Charleroi
- 30 April, 2nd Final match in Grenzau: 3-1 for Charleroi

It is interesting to note that more than 6,000 spectators (full-house) attended the first final match in Charleroi. This match was hosted by the Charleroi club and promoted by Philippe Saive's marketing company. The ITTF was represented by its Vice President, Judit Farago, who was very impressed by the atmosphere in the hall "With more than 6.000 loud cheering spectators, it was an unbelievable atmosphere. With the exception of the Worlds last year in Bercy, I have never experienced a similar atmosphere in Europe before"
The match was attended by all the top politicians of the francophone part of Belgium and all VIP loges were sold out several months before the date of the match. "The matches in
Charleroi have a special atmosphere, like a festival, an entertainment, it is a real social and political event, not only sport" says Judit Farago.
In the playing hall there were 2 giant video screens showing the live broadcast on the national TV-channel RTBF.
The "away" match for Charleroi was played in Grenzau where Charleroi repeated in victorious form to clinch the title after two identical consecutive wins of 3-1.
Match 1, in Charleroi:
Royal Villette Charleroi defeated TTC Zugbrücke Grenzau 3:1
Samsonov def. Fejer-Konnerth 11:9, 11:6, 11:3
Saive lost Ma Wenge 9:11, 8:11, 8:11
Chila def. Blaszczyk 14:12, 6:11, 11:9, 11:8
Samsonov def. Ma Wenge 11:9, 9:11, 11:8, 11:7
Match 2, in Grenzau:
TTC Zugbrücke Grenzau lost to Royal Villette Charleroi defeated 1:3
Chen Zhi Bin lost Saive 7:11, 4:11, 4:11
Ma Wenge def. Samsonov 9:11, 11:8, 13:11,11:1
Fejer-Konnerth lost Chila 9:11, 8:11, 6:11
Chen Zhi Bin lost Samsonov 6:11, 7:11, 6:11
---
Related Articles:

Timo Boll writes his name in history books

Sensational Singapore in Moscow

Samsonov wins his 3rd World Cup

Michael Maze and Wu Jiaduo are European Champions

Obama Purchases Stiga 410Q Table Tennis Table

Vote for Biba!

Wang Hao is new World Champion

First WTTC without speed glue

Killerspin signs India no. 1

Table Tennis on TV (US Only)