Table Tennis in Afghanistan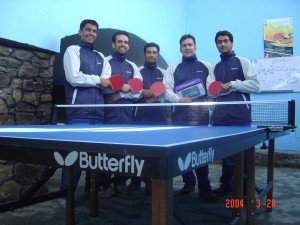 ITTF leading leading the humanitarian spirit Of sport development in Afghanistan
Wednesday, March 31, 2004
Source: ITTF;
The ITTF has wrapped up its development project in Afghanistan and overall it has been a very positive exercise. Of course it has been difficult as there are still many major problems and needs in Afghanistan.
This was highlighted by the fact that my visit to Herat (a city in the west) had to be cancelled because of a fight that broke out between a divisional commander and the premier. Adding to the still shaky stability of the country many basic needs are still not met adequately. So you can imagine the difficulties that sport faces.
Yet in the capital, Kabul, and many of the other major cities there are signs of a more rosy future for the country. This is also true for sport, as there is sporting activity almost everywhere you look. Making the most of the little that they have the Afghan people are once again enjoying activities that were only 2 and half years ago banned by the Taliban regime. Having this activity better planned - with regular competitions, coaching, more equipment, greater infrastructure and administration are the next steps for the rebuilding of sport here in Afghanistan.
Table Tennis is the first sport to take some of these important first steps. Offering a comprehensive package of support including; a huge equipment package from Butterfly plus Coaching and Technical assistance to the Afghanistan Table Tennis Federation and assistance to a number of the other National Federations. All of which has been made possible by the IOC, ITTF and Butterfly. And it does not finish here as there are plans to send the newly trained table tennis coaches and officials into the major provinces to help build the Table Tennis Federation. Plans are also underway for a follow up visit for 2005.
The Afghanistan National team (pictured) is a sign of the potential for a rosy future - the Men?s team will play in next weeks South Asia Games in Islamabad, Pakistan. Only two years ago this would not have been thought possible. However due to the Federations own initiatives; building a small stadium for themselves with their own money and their own hands, practicing a few times a week in preparation and running a series of competitions in the lead up to the games they are now somewhat ready to compete. They will not win and most likely will struggle to be even competitive but the fact that they are even competing is a tremendous achievement.
This story is quite common for sport here as the federations are once again trying to rebuild. Despite their enthusiasm it should come as no major surprise that they all need major help. Most have very little knowledge of what is required to be a successful federation let alone the equipment to make it happen. Table Tennis is well known for its humanitarian approach and once again it is leading the way in Afghanistan Sport. It is now time for the other International Federations to follow this important initiative of the ITTF and help the ?in need?, war torn, people of Afghanistan. Despite the warnings prior to my visit, Kabul and most of Afghanistan is safe and becoming safer day by day. I have only felt that I have been made welcome by the friendly Afghan people. The people are tired of fighting and war and are ready to play.
by Steve Dainton
ITTF (Oceania) Development Officer
Photo: Afghanistan Men's Team for South Asia Games-sponsored by Butterfly
---
Related Articles:

Timo Boll writes his name in history books

Sensational Singapore in Moscow

Samsonov wins his 3rd World Cup

Michael Maze and Wu Jiaduo are European Champions

Obama Purchases Stiga 410Q Table Tennis Table

Vote for Biba!

Wang Hao is new World Champion

First WTTC without speed glue

Killerspin signs India no. 1

Table Tennis on TV (US Only)