Ma Lin wins Men's World Cup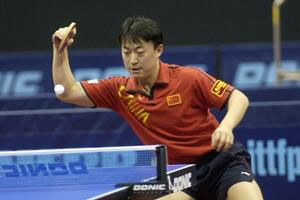 Defeats Kreanga in final
Sunday, October 12, 2003
ITTF Press Release
Jiangyin, China, 12 October 2003. He was expected to win and MA Lin (CHN) did not disappoint his supporters. The no. 1 on the World Ranking won the Fasten Men's World Cup beating Kalinikos KREANGA 4-1 in the final - 9-11, 11-6, 11-9, 11-7, 11-9.
Before the final KREANGA said that his only chance would be to prevent MA Lin from finishing the points very quickly – the Greek succeeded in doing that in the first game, and he was leading all the way. He got to game points at 10-8, and he won the second.
In the 2nd game however, MA Lin came out more powerful, and KREANGA never got any rallies going. MA Lin won three games in a row, and he also took the lead 10-4 in the 5th – 6 match points.
Then came a moment of tension since KREANGA stayed alive winning one point after the other. The Greek came to 9-10 and 4000 spectators held their breath. However, on his 6th bmatch point MA Lin finaly could win the last point taking the Fasten Men's World Cup home.
-I can only repeat that MA Lin is the best player in the World. I succeeded in keeping him away from me in the first game, but that was all, said Kalinikos KREANGA, who still has to take the last step in one of the "majors". He was in the final at the Grand Finals 2002, in the semi-finals at the World Championships in Paris, and now in the final at the Fasten Men's World Cup.
MA Lin gave big credit to his coach, former World Champion LIU Guoliang.
-He has given me a lot of advice, which make me grow and mature".
When MA Lin won the World Cup in 2000 he was crying – this time he was "only" celebrating.
-Winning in 2000 was very emotional for me, but this World Cup is very important to me as well, says MA who knows that now everybody will "chase" him.
-I'll have to live with the pressure, and being no. 1 on the World Ranking is no guarantee. The game still begins at 0-0. Just look at the World Championships where JOO Se Hyuk reached the final without being in the top 50 in the World.
Anyway, though everybody will want to beat MA Lin, nobody can take the World Cup away from him. MA Lin was the big favourite, and he stood up to the pressure. He deserves the cup – and the 44.000 US Dollars.


---
Related Articles:

Timo Boll writes his name in history books

Sensational Singapore in Moscow

Samsonov wins his 3rd World Cup

Michael Maze and Wu Jiaduo are European Champions

Obama Purchases Stiga 410Q Table Tennis Table

Vote for Biba!

Wang Hao is new World Champion

First WTTC without speed glue

Killerspin signs India no. 1

Table Tennis on TV (US Only)