ETTC: Italy wins Women's Teams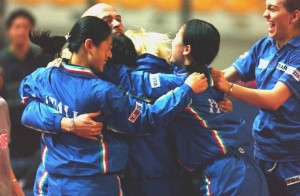 Italy defeats Croatia in Women's Team Final of the 2003 European Championships
Tuesday, April 01, 2003
ITTF Press Release
Courmayeur, Italy, 31 March 2003. The Italian Women's Team once more proved that team spirit can take you very far. They came into the Liebherr European Championships as underdogs but on Monday they took the European title beating Croatia 3-1 in the final.
It was the first time that the European Table Tennis Championship took place in Italy and it was the first time that the Italian Women's Team took the title.
Already the first match turned out to become a key match. The young Italian Nikoletta STEFANOVA faced Croatian star Tamara BOROS, but STEFANOVA showed neither fear nor respect.
STEFANOVA had the lead 1-0 and 2-1 but when BOROS levelled taking the 4th 11-3 it looked like everything was "back to normal". However STEFANOVA, in spite of her lack of experience, rose to the occasion and played an excellent 5th game beating BORORS 11-4.
Croatian Cornelia VAIDA levelled the match beating Wenling TAN MONFARDINI in 3 straight games.
Next Italian at the table, Laura NEGRISOLI, had not lost yet at this tournament – and she did not lose in the final either. She overcame Andreja BAKULA 3-0 leaving it to Wenling TAN MONFARDINI to finish the job.
The opponent was Tamara BOROS who seemed to have lost all her confidence after the defeat to STEFANOVA. The match went right to a close 5th game, but at the end the Italian team spirit carried TAN MONFARDINI through. She took the decisive game 11-9.
For more news from the Liebherr European Championships please click on the link on the front page.
---
Related Articles:

Samsonov is European Champion

ETTC: Samsonov defeats Boll in Semis

ETTC: Badescu is Women's Champion

ETTC: Belarus defeats Germany