Timo Boll is new European Champion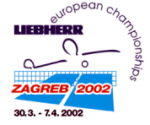 Defeats Schlager and Kreanga
Sunday, April 07, 2002
Germany's young start Timo Boll has won the most prestigious event of his career as he was crowned European Champion at only 20 years of age.
Boll defeated Werner Schlager of Austria in the semi-final (11:4 7:11 10:12 11:8 9:11 13:11 11:4) and Kalinikos Kreanga of Greece in the final (11:9 4:11 11:8 3:11 11:7 11:6).
Before the tournament, Boll was ranked no. 6 but he will definitely improve his ranking when the next ranking list is published.


Men's Singles Results
Final
Kreanga Kalinikos - Boll Timo 2 - 4
Semifinals
Primorac Zoran - Kreanga Kalinikos 3 - 4
Schlager Werner - Boll Timo 3 - 4

1/4 finals
Samsonov Vladimir - Primorac Zoran 0 - 4
Kreanga Kalinikos - Waldner Jan-Ove 4 - 2
Schlager Werner - Karlsson Peter 4 - 3
Bentsen Allan - Boll Timo 0 - 4

1/8 finals
Vlotinos Ioannis - Primorac Zoran 1 - 4
Samsonov Vladimir - Hakansson Fredrik 4 - 0
Keen Trinko - Waldner Jan-Ove 2 - 4
Kreanga Kalinikos - Korbel Petr 4 - 2
Karlsson Peter - Saive Jean-Michel 4 - 0
Schlager Werner - Chtchetinine Evgeni 4 - 3
Kusinski Marcin - Boll Timo 0 - 4
Bentsen Allan - Eloi Damien 4 - 2

Links:
---
Related Articles:

Ni Xia Lian wins Women's Singles

Sweden defeats Germany in Teams Final

2002 European Championships