JOOLA Lex Glue 100ml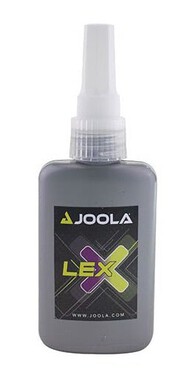 $15
.95
($15.95/100ml)
$22.95
Save $7.00 (31%)
Sorry, this item is currently out of stock. You may ask us to send you a restocking notification when this item is back.
Solvent free glue with latex base. LEX combines the ideal requirements of a table tennis glue – short drying time, excellent glueing and easy removal – with the new technical expertise of the "non-glueing era". Outstanding price/performance ratio.
Comes with 10 sponges.
Additional Information
Around 8-10ml of glue are needed to assemble 2 rubber sheets to a blade. A 100ml bottle of glue assembles at least 10 rackets.
How to Glue - Racket Assembly Guide - Read this if you are new to gluing your racket.
Looking for a speed glue effect? Check out our boosters.
Best Price Guarantee We guarantee to have the lowest prices (shipping included) in the US. Please tell us if you see a lower price.
Reviews of JOOLA Lex Glue 100ml (1)