GEWO Rave Game
Very good table tennis racket for the advanced beginners and hobby player. The GEWO Rave Game with 2.0mm thick GEWO Raver rubbers guarantees fast shots with very good control. The handle design of the GEWO Sensetise-Grip-System provides an intense grip and keeps the racket in the hand.

GEWO Rave Game table tennis rackets with GEWO Raver rubber beginner toppings
The GEWO Rave Game table tennis racket consists of 5 specially-glued plywood veneers.
The sponge thickness of the GEWO Rave Game table tennis racket is 2.0mm.
The GEWO Sensetise-Grip-System guarantees an intense grip.
The GEWO Rave Game weighs 180 grams.
Blade Type: Allround
Blade Speed: 75
Blade Control: 70
Blade Spin: 90
Racket Weight: 180g
Handle Options: Flared
---
Customers who purchased GEWO Rave Game also purchased: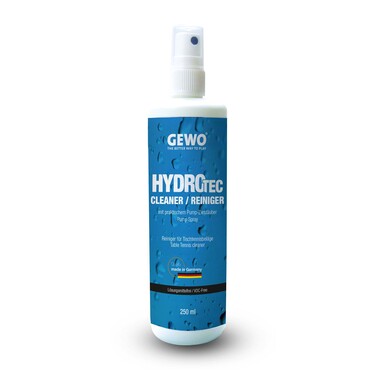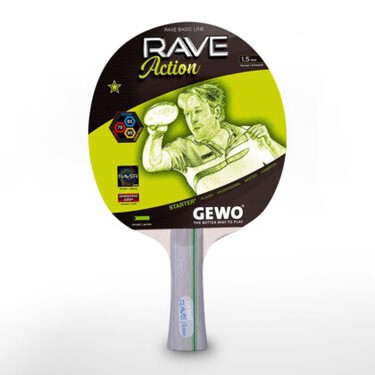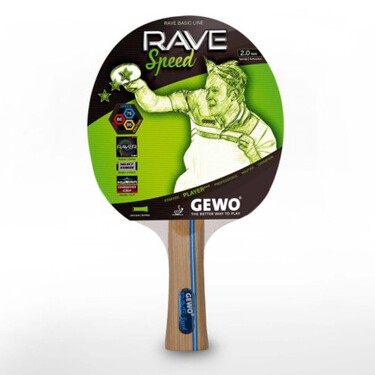 Racket Assembly FAQ - Learn about free racket assembly, pre-assembled rackets and more.
Best Price Guarantee
We guarantee to have the lowest prices (shipping included) in the US. Please tell us if you see a lower price.
Reviews

Gewo Rackets

Table Tennis Rackets
---
All items are in stock unless otherwise stated. All prices are in USD.
If you need help or advice please contact us. We are happy to help!