Singapore Open - Ma Long wins second consecutive title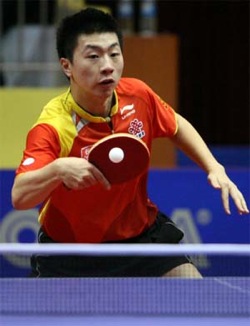 Monday, June 09, 2008
ITTF Press Release
Seeded two, Chinaís Ma Long won the Menís Singles title at the TMS Singapore Open on Sunday 8th June 2008 and thus completed consecutive wins on the ITTF Pro Tour having succeeded one week earlier at the Volkswagen Open Korea.
At the final hurdle he defeated Vladimir Samsonov of Belarus to collect his fourth career ITTF Pro Tour Menís Singles crown. In the gold medal contest Ma Long was impressive against the cultured skills of the man from Belarus.
He won 11-8, 8-11, 11-8, 11-9, 11-5.
It was for Ma Long his seventh appearance in a Menís Singles final on the ITTF Pro Tour and the record of victories is now one ahead of defeats.
In 2007 he won at the Salwa Cup Kuwait Open and at the Liebherr German Open whilst in both Japan and Sweden, he was the runner up; his one other silver medal came in 2005 at the Liebherr German Open when he lost in the final to Vladimir Samsonov in a scintillating duel, the match going the full seven games distance.
One of Four
The victory recorded by Vladimir Samsonov in 2005 was one of four against Ma Long in world ranking events whilst prior to the TMS Singapore Open, Ma Long had one success.
Following his win in November 2005 at the Liebherr German Open, Vladimir Samsonov won in the third round of the Menís Singles event at the Liebherr Croatian Open in January 2006 in round three and then the following year in January 2007 at the semi-final stage in Croatia.
Run Ended
However, in February 2007 at the Liebherr Qatar Open, Ma Long ended the run of Belarus successes, in the third round he beat Vladimir Samsonov in five games to announce future intentions.
There were no further meetings in 2007, the next being in Kuwait in March 2008 when Vladimir Samsonov prevailed in the semi-finals in seven games before proceeding to capture the title with victory over Ma Longís compatriot, Chen Qi.
No Gold
In the Toa Payoh Centre, Vladimir Samsonov was once again in the final, his fourth appearance in the gold medal match in 2008 on the ITTF Pro Tour; in Slovenia, Kuwait and Belarus he won. In Singapore he had to settle for silver, gold belonged to Ma Long.
Photo: Ma Long (courtesy of ITTF)