Chile Open: A Good Sign for Reigning Olympic Champion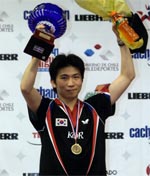 ITTF Press Release
Koreaís Ryu Seung Min won two ITTF Pro Tour Menís Singles titles in 2004, the only two of his career. At the Chile Open in Santiago on Sunday 27th April 2008 he won his third, when he beat Korean compatriot Yoon Jae Young in the final.
In 2004 he progressed to capture gold in the Menís Singles event at the Athens Olympic Games; could the victory in Santiago be a good omen for Ryu Seung Min for the forthcoming Beijing Olympic Games?
The final proved to be a comfortable ride for Ryu Seung Min, whose forehand was in devastating form but at the semi-final stage he had been tested to the limit by Hong Kongís Li Ching; whereas in the corresponding encounter the ice cool Yoon Jae Young had experienced few problems against Japanís Kaii Yoshida.
Success for Korea in the Menís Singles event but in the Womenís Singles final they had to settle for silver with Kim Kyung Ah losing a gruelling seven games duel against top seed Singaporeís Li Jia Wei. At the penultimate stage Li Jia Wei had won an all-Singapore duel against Feng Tianwei whilst Kim Kyung Ah had won an all-Korean contest in opposition to Park Mi Young.
It was the sixth ITTF Pro Tour Womenís Singles title of Li Jia Weiís career.
Gold for Singapore in the Womenís Singles event and also in the Menís Doubles where number one seeds, Gao Ning and Yang Zi overcame Hong Kongís Cheung Yuk and Li Ching to secure their third ITTF Pro Tour Menís Doubles
crown in the space of eighteen months.
However, in the Womenís Doubles final Singapore had to settle for the silver medal; seeded two, Li Jia Wei and Sun Bei Bei lost to Hong Kongís Jiang Huajun and Tie Yana; the latter winning their first ITTF Womenís Doubles title as a pair.
Menís Singles
Semi-Finals
Yoon Jae Young (KOR) bt Kaii Yoshida (JPN) 11-8, 11-6, 11-4, 2-11, 11-6
Ryu Seung Min (KOR) bt Li Ching (HKG) 11-5, 11-13, 3-11, 11-8, 12-10, 8-11, 11-8
Final
Ryu Seung Min (KOR) bt Yoon Jae Young (KOR) 11-8, 11-4, 7-11, 11-5, 11-6
Womenís Singles
Semi-Finals
Li Jia Wei (SIN) bt Feng Tianwei (SIN) 11-9, 9-11, 11-4, 11-7, 11-3
Kim Kyung Ah (KOR) bt Park Mi Young (KOR) 10-12, 6-11, 11-5, 11-8, 11-9, 11-9
Final
Li Jia Wei (SIN) bt bKim Kyung Ah (KOR) 6-11, 11-9, 9-11, 11-5, 5-11, 11-7, 11-7
Menís Doubles
Final
Gao NIng/Yang Zi (SIN) bt Cheung Yuk/Li Ching (SIN) 11-6, 11-5, 11-7, 5-11, 11-2
Womenís Doubles
Final
Jiang Huajun/Tie Yana (HKG) bt Li Jia Wei/Sun Bei Bei (SIN) 11-9, 13-15, 11-5, 8-11, 11-5, 11-6
Photo: Koreaís Ryu Seung Min (courtesy of ITTF)
Related Articles:

Spanish Open: Oh Sang Eun Beats Local Hero

Polish Open: Lee Sang Su Overcomes Alexander Shibaev

German Open: Zhang Jike Proves Unbeatable

UAE Open: Four Titles for Fourth Time for China

China Supreme in Qatar

English Open: China Totally Dominant

Slovenian Open: New Generation Strikes Gold in Velenje

Jun Mizutani Captures KAL Cup Pro Tour Grand Finals Menís Singles Crown

Polish Open: Winners Secure Passports to Grand Finals

Austrian Open: Sensational 24-year old Apolonia defeats Boll in final