Swedish Open: Wang Hao, Li Xiaoxia Secure Honours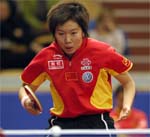 Monday, November 19, 2007
Chinaís Wang Hao and Li Xiaoxia won the respective Menís and Womenís Singles titles at the Swedish Open in Stockholm on Sunday 18th November; the last open international tournament on the ITTF Pro Tour calendar in 2007.
Top seed Wang Hao beat third seed Wang Liqin in the semis and fourth seed Ma Long in the final, all three being national team compatriots. Once again in 2007 a Menís Singles crown on the ITTF Pro Tour has eluded Wang Liqin. In May he retained his Menís Singles title at the Liebherr World Championships; winning for a third time but in ten appearances on the ITTF Pro Tour in 2007 he has failed to gain a Menís Singles title.
Meanwhile for Wang Hao it was his fourth Menís Singles crown on the ITTF Pro Tour in 2007and for Li Xiaoxia her third and second in consecutive weeks. Seeded two she beat fourth seed Singaporeís Li Jia Wei in the semis and compatriot third seed, Guo Yan, in the final, the latter having ousted top seed and reigning World champion, Guo Yue, also of China, at the penultimate stage.
Gold for Wang Hao in the Menís Singles and earlier in the day he had enjoyed Menís Doubles success with Ma Long. The duo overcame top seeds Singaporeís Gao Ning and Yang Zi by the narrowest of seven games margins at the final hurdle. It was for Wang Hao and Ma Long their first ever ITTF Pro Tour Menís Doubles title as a pair, whilst for Gao Ning and Yang Zi it was their eighth final appearance in 2007 and their sixth runners up spot.
One week earlier they had been the silver medallists at the Liebherr German Open, a position that the Koreans Kim Kyung Ah and Park Mi Young had also experienced in Bremen. However, in Stockholm there was better news for the Koreans. They won the Womenís Doubles crown overcoming Japanís Haruna Fukuoka and Sayaka Hirano in a close seven games final duel; like Ma Long and Wang Hao it was their first career success as a pair in a doubles event on the ITTF Pro Tour.
Menís Singles
SF: Wang Hao (CHN) bt Wang Liqin (CHN) 14-12, 12-10, 11-6, 5-11, 11-5
SF: Ma Long (CHN) bt Ma Lin (CHN) 11-6, 12-10, 11-8, 12-10
F: Wang Hao (CHN) bt Ma Long (CHN) 2-11, 11-9, 11-8, 12-10, 11-8
Womenís Singles
SF: Guo Yan (CHN) bt Guo Yue (CHN) 7-11, 11-7, 3-11, 11-9, 11-7, 11-5
SF: Li Xiaoxia (CHN) bt Li Jia Wei (SIN) 11-5, 11-7, 8-11, 11-5, 11-5
F: Li Xiaoxia (CHN) bt Guo Yan (CHN) 14-12, 11-9, 11-6, 11-7
Menís Doubles
F: Ma Long/Wang Hao (CHN) bt Gao Ning/Yang Zi (SIN) 11-2, 9-11, 11-8, 11-4, 12-14, 9-11, 11-9
Womenís Doubles
F: Kim Kyung Ah/Park Mi Young (KOR) bt Haruna Fukuoka/Sayaka Hirano (JPN) 8-11, 7-11, 11-5, 11-9, 11-5, 8-11, 11-8

Image: Li Xiaoxia Women's Singles winner on the ITTF Pro Tour for the second consecutive week (courtesy of ITTF)
ITTF Press Release