Qatar Open: Ma Lin's Revenge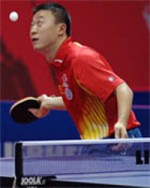 Monday, February 19, 2007
ITTF Press Release
Ma Lin beat Chinese national team compatriot, Wang Liqin, in the final of the Menís Singles event at the Liebherr Qatar Open in Doha on Saturday 17th February 2007 and is so doing reversed the decision of the previous two years.
In 2005 and 2006 Ma Lin had lost in the final to Wang Liqin; in 2007 he turned the tables by beating his colleague in six games. Ma Lin, seeded two, beat Wang Liqin, seeded one, 11-9, 8-11, 12-10, 6-11, 11-9, 11-7.
At the semi-final stage Wang Liqin had beaten Chen Qi, also from China, 11-7, 11-8, 14-12, 11-7, whilst Ma Lin had accounted for fourth seed, Timo Boll of Germany, 11-2, 11-7, 11-9, 11-9.
Success for China in the Menís Singles event and there was guaranteed success for China in the Womenís Singles competition. They provided all four semi-finalists.
The eventual winner was Li Xiaoxia who beat Wang Nan in the final 10-12, 11-1, 11-7, 9-11, 5-11, 11-5, 11-3. In the semi-finals she overcame Niu Jianfeng 13-11, 11-8, 3-11, 13-11, 11-6 whilst at the same stage; Wang Nan defeated Guo Yan 11-7, 11-4, 12-14, 12-10, 11-9.
It was the second ITTF Pro Tour Womenís Singles title of Li Xiaoxiaís career, her first success came in 2005 at the Volkswagen Open China in Shenzhen.
The Liebherr Qatar Open proved a most successful tournament for Li Xiaoxia. Earlier in the afternoon she had partnered Wang Nan to gold in the Womenís Doubles event, the pair beating the top seeds in the final, Tie Yana and Zhang Rui of Hong Kong.
Li Xiaoxia and Tie Yana won 8-11, 11-9, 11-4, 8-11, 7-11, 11-7, 12-10.
Similarly, it was a good day for Koreaís Cho Eon Rae. He won the Under 21 Menís Singles crown beating compatriot Lee Jin Kwon in the final 11-8, 11-6, 8-11, 11-4, 11-3 and then later in the day partnered Lee Jung Woo to victory in the Menís Doubles event.
The pair beat the German combination of JŲrg Rosskopf and Christian SŁss 11-9, 7-11, 11-8, 5-11, 11-7, 5-11, 11-5.
It was the first ITTF Pro Tour Menís Doubles title for Cho Eon Rae and Lee Jin Kwon as it was for the partnership of Li Xiaoxia and Wang Nan.
Image: Ma Lin crowned Men's Singles champion in Qatar