Indian Open: Titles for Singapore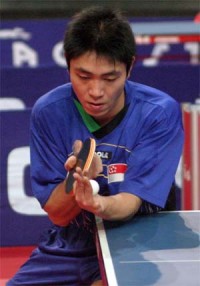 Sunday, February 11, 2007
ITTF Press Release
Players from Singapore completed a clean sweep of titles at the Indian Open in New Delhi on Sunday 11th February 2007; one day earlier Ma Liang and Ma Ming Lu had won the Under 21 Menís Singles and Under 21 Womenís Singles titles respectively, one day later their compatriots emerged as champions in the four senior events.
Twenty-four year old Gao Ning and twenty-three year old Sun Bei Bei each won two titles.
Seeded number one in the Menís Singles event, Gao Ning beat third seed Croatiaís Roko Tosic in the semi-finals 11-7, 12-10, 11-8, 11-8 before overcoming fifth seed, the host countryís Sharath Kamal in the final 11-5, 11-3, 10-12, 11-6, 11-6.
At the penultimate stage Sharath Kamal had beaten Indian national team colleague, Suhajit Saha 11-5, 16-14, 11-8, 11-6.
It was the first time that Gao Ning and Sharath Kamal had met in a World Ranking event and it was the first time that either had reached the final of a Menís Singles event on the ITTF Pro Tour.
Earlier in the proceedings Gao Ning had won the Menís Doubles title in partnership with compatriot Yang Zi. In an all Singaporean final the duo beat Cai Xiao Li and Ma Liang 11-9, 11-9, 11-5, 10-12, 7-11, 11-5.
Meanwhile, in the Womenís Singles competition, Sun Bei Bei dominated matters from start to finish. She won, recording straight games victories in every round and thus clinched her first ever ITTF Pro Tour Womenís Singles title.
In the semi-finals she beat colleague Ma Ming Lu 13-11, 11-8, 11-4, 11-7 before overcoming fourth seed, Indiaís Poulomi Ghatak 11-8, 11-2, 11-8, 11-3 in the final, having earlier won the Womenís Doubles crown with Yu Meng Yu.
It was for Yu Meng Yu a battle of willpower. She had been forced to withdraw from the semi-final of the Womenís Singles event against Poulomi Ghatak owing to illness but somehow found the strength to partner Sun Bei Bei to victory in the Womenís Doubles final.
Sun Bei Bei and Yu Meng Yu beat Indiaís Madhurika Patkar and Vishakha Bijoy in the final; they won 6-11, 11-6, 11-1, 11-7, 13-11.
Image: Gao Ning, the Men's Singles champion at the first ITTF Pro Tour tournament to be held in India