Slovenian Open: Wang Hao retains Title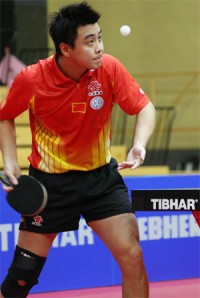 ITTF Press Release
Chinaís Wang Hao and Guo Yue retained their Menís and Womenís Singles titles respectively in Velenje on Saturday 27th January 2007.
One year earlier they had emerged as champions at the Liebherr Slovenian Open; one year later they were crowned champions at the Gorenje Slovenian Open.
In the Menís Singles final Wang Hao beat Koreaís Ryu Seung Min in convincing style, extracting revenge for the defeat he had suffered at the hands of his adversary when the two had clashed in the final of the Menís Singles event at the Athens Olympic Games in 2004.
The Chinese star won 11-9, 11-7, 11-5, 11-7 having beaten colleague and second seed, Ma Lin in the semis 11-8, 12-10, 9-11, 11-4, 11-9. Meanwhile, at the same stage Ryu Seung Min had accounted for Hong Kongís Li Ching 7-11, 11-8, 12-10, 11-5, 4-11, 14-12.
A repeat success for Wang Hao and an ever more impressive repeat success for Guo Yue; in 2006 she won the Womenís Singles titles at the first two ITTF Pro Tour tournaments of the year. She won at the Liebherr Slovenian Open and at the Liebherr Croatian Open.
In 2007 the dates were reversed but it made no difference to Guo Yue. She won both titles again and furthermore beat Wang Nan, the former Olympic and World champion in both finals.
It is a quite remarkable achievement especially when taking into account the fact that Guo Yue is only eighteen years old.
On Saturday 27th January 2007 she beat Li Xiaoxia in the semis 9-11, 11-7, 11-9, 10-12, 8-11, 11-6, 11-6 before overcoming Wang Nan 5-11, 14-12, 11-6, 7-11, 8-11, 11-2, 11-9. Meanwhile, at the penultimate stage Wang Nan defeated her compatriot, Zhang Yining, the reigning Olympic and World champion 11-9, 9-11, 11-1, 12-10, 9-11, 11-9.
Defeat for Zhang Yining but there was success. Partnering Guo Yan, the duo from Beijing, won the Womenís Doubles title beating Chen Qing and Li Xiaoxia in the final 10-12, 11-2, 11-5, 11-6, 11-6. It was the second consecutive ITTF Pro Tour Womenís Doubles final for Chen Qing and Li Xiaoxia; in Croatia they had clinched gold, in Slovenia they had to settle for silver.
Success for China and in the Menís Doubles they also succeeded. Chen Qi and Wang Liqin combined to beat Hong Kongís Ko Lai Chak and Li Ching in the final in five games. They won 8-11, 11-6, 11-6, 11-9, 11-8.
All four senior titles on offer in Velenje went to China; it was a repeat of the previous week in Croatia. The Chinese stars were dominant, the best in the world.

Image: Wang Hao, the Men's Singles champion in Velenje
Related Articles:

Spanish Open: Oh Sang Eun Beats Local Hero

Polish Open: Lee Sang Su Overcomes Alexander Shibaev

German Open: Zhang Jike Proves Unbeatable

UAE Open: Four Titles for Fourth Time for China

China Supreme in Qatar

English Open: China Totally Dominant

Slovenian Open: New Generation Strikes Gold in Velenje

Jun Mizutani Captures KAL Cup Pro Tour Grand Finals Menís Singles Crown

Polish Open: Winners Secure Passports to Grand Finals

Austrian Open: Sensational 24-year old Apolonia defeats Boll in final