Pro Tour Grand Finals: Titles for China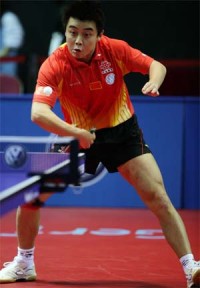 Wednesday, December 20, 2006
All four titles in the events held at the Volkswagen Pro Tour Grand Finals in Hong Kong on Sunday 17th December 2006 went the way of China.
Wang Hao won the Menís Singles title, Zhang Yining clinched the counterpart Womenís Singles crown and with Wang Nan the Womenís Doublesí title, whilst in the Menís Doubles it was Hao Shuai and Ma Long who stood on the top step of the medal podium.
It was the second time that Wang Hao had won the title, he won in 2003 in Guangzhou whilst for Zhang Yining she retained the title she had won twelve months earlier in Guangzhou and secure top spot for the fourth time.
In the Menís Singles event Wang Hao beat compatriot Hou Yingchao in the semi-finals before accounting for Koreaís Oh Sang Eun in the final whilst at the last two hurdles the adversaries to suffer at the hands of Zhang Yining were Singaporeís Li Jia Wei and Chinese national team colleague, Li Xiaoxia.
Meanwhile, in the Menís Doubles event Hao Shuai and Ma Long beat the reigning Olympic champions, compatriots Chen Qi and Ma Lin in the final whilst in the Womenís Doubles Wang Nan and Zhang Yining overcame the defending champions to clinch gold. They beat Gao Jun of the United States and Shen Yangfei of Spain.
Menís Singles
Semi-Finals:
Oh Sang Eun (KOR) bt Ma Lin (CHN) 11-7, 11-8, 7-11, 5-11, 11-7, 7-11, 11-8
Wang Hao (CHN) bt Hou Yingchao (CHN) 11-4, 11-7, 11-7, 11-6
Final
Wang Hao (CHN) bt Oh Sang Eun (KOR) 7-11, 11-8, 4-11, 11-2, 11-8, 12-10
Womenís Singles
Semi-Finals:
Zhang Yining (CHN) bt Li Jia Wei (SIN) 11-6, 11-7, 5-11, 11-8, 11-7
Li Xiaoxia (CHN) bt Shen Yanfei (ESP) 11-8, 11-7, 11-6, 10-12, 5-11, 11-8
Final
Zhang Yining (CHN) bt Li Xiaoxia (CHN) 9-11, 11-3, 11-2, 7-11, 8-11, 11-6, 11-7
Menís Doubles
Final:
Hao Shuai/Ma Long (CHN) bt Chen Qi/Ma Lin (CHN) 9-11, 5-11, 1-10, 11-8, 11-9, 7-11, 12-10
Womenís Doubles
Final:
Wang Nan/Zhang Yining (CHN) bt Gao Jun/Shen Yanfei (USA/ESP) 11-6, 8-11, 11-9, 11-8, 12-10
Photo: Wang Hao, the winner of the Men's Singles title at the Volkswagen Pro Tour Grand Finals 2006
Source: ITTF
Read more ITTF Articles
---
Related Articles:

Spanish Open: Oh Sang Eun Beats Local Hero

Polish Open: Lee Sang Su Overcomes Alexander Shibaev

German Open: Zhang Jike Proves Unbeatable

UAE Open: Four Titles for Fourth Time for China

China Supreme in Qatar

English Open: China Totally Dominant

Slovenian Open: New Generation Strikes Gold in Velenje

Jun Mizutani Captures KAL Cup Pro Tour Grand Finals Menís Singles Crown

Polish Open: Winners Secure Passports to Grand Finals

Austrian Open: Sensational 24-year old Apolonia defeats Boll in final