German Open: Timo Boll thrills home crowd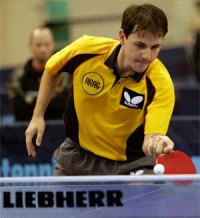 Monday, November 13, 2006
Timo Boll thrilled the crowds at the Liebherr German Open in Bayreuth on Sunday 12th November 2006; in the Menís Singles final he recovered from a three games to one deficit to beat Chinaís Hou Yingchao in a seven games thriller.
Timo Boll won 9-11, 15-13, 10-12, 7-11, 13-11, 11-5, 11-7 to delight of the full house in the Oberfrankenalle, with his consistent topspin play eventually overcoming the skills of the Chinese defensive artist.
Success for the top seed in the Menís Singles event but not in the final of the Womenís Singles competition where it was a case of role reversal; one week earlier in St Petersburg, Li Jia Wei had beaten her Singapore colleague, Wang Yue Gu in the final. In Bayreuth the fast attacking skills of the latter prevailed.
Seeded in the number two position, Wang Yue Gu won 12-14, 11-5, 11-1, 9-11, 11-8, 11-9.
However, there was success for Li Jia Wei; partnering Sun Bei Bei, she repeated the victory of seven days earlier at the Eurosib Russian Open by once again capturing the Womenís Doubles crown. The Singapore duo beat Japanís Ai Fukuhara and Ai Fujinuma, the number two seeds, at the final hurdle; the margin of victory being 11-5, 11-6, 6-11, 13-11, 10-12, 12-10.
Hard fought finals but the closest of all was saved to the very last with Patrick Chila of France and Werner Schlager of Austria being crowned Menís Doubleschampions. Against the Singapore pairing of Gao Ning and Yang Zi they saved a total of three match points before emerging successful.
Patrick Chila and Werner Schlager won 9-11, 14-12, 9-11, 9-11, 11-7, 12-10, 12-10. It was their first every Menís Doubles title on the ITTF Pro Tour; meanwhile for Gao Ning and Yang Zi it was a case of so near yet so far yet again.
One week earlier in St Petersburg they were the runners up, losing on that occasion to Hou Yingchao and Lin Ju.
Photo: Timo Boll, the winer of a nail-biting final over the extraordinary skills of Hou Yingchao
Source: ITTF