Russian Open: Hou Yingchao's first Singles Title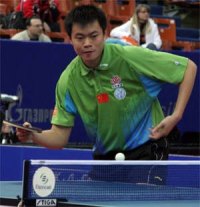 First published on Sunday, November 05, 2006
Last updated on Sunday, November 05, 2006
Hou Yingchao Wins First ITTF Pro Tour Titles
China's Hou Yingchao won his first ever titles on the ITTF Pro Tour when he clinched both the Men's Singles and Men's Doubles crowns at the Eurosib Russian Open in St Petersburg on Sunday 5th November 2006.
In the Men's Doubles, he combined with the Dominican Republic's Lin Ju to beat Singapore's Gao Ning and Yang Zi at the final hurdle, the duo recovering from an opening game deficit to win 9-11, 11-6, 11-8, 11-4, 11-6.
A first ITTF Pro Tour title secured for both Lin Ju and Hou Yingchao and just over one hour later the latter doubled his tally by winning the Men's Singles event. He overcame Croatia's Zoran Primorac in a match that kept the two thousand strong crowd fully entertained until the last point of the duel.
It was the classic table tennis match with the defensive skills of Hou Yingchao being matched by the powerful attacking abilities of Zoran Primorac. The match went the full seven games distance with Hou Yingchao winning 6-11, 11-8, 13-11, 11-8, 9-11, 4-11, 11-8. The contest was the most exacting of Hou Yingchao's path the title. It was the only time that he didn't win in straight games!
Two titles for Hou Yingchao and similarly two titles for Li Jia Wei; partnering Sun Bei Bei, she won the Women's Doubles crown before justifying her number one seeded position by overcoming compatriot Wang Yue Gu in the final of the Women's Singles event.
In the final of the Women's Doubles the duo beat the Hungarian pairing of Krisztina Tóth and Georgina Póta; a relatively new combination with Krisztina Tóth having enjoyed more than a decade of success with Csilla Bátorfi, who has now retired from international play. The newly formed Hungarian duo, despite suffering defeat, gave plenty of evidence that they will be a force with which to be reckoned in international competition in the foreseeable future.
Li Jia Wei and Sun Bei Bei won 11-4, 7-11, 11-7, 6-11, 11-9, 12-10.
Meanwhile, in the Women's Singles event it was a case of fast exchanges with Wang Yue Gu full of confidence after winning the Volkswagen Open Japan in September. She attacked ferociously throughout but Li Jia Wei withstood the barrage to emerge as the champion and thus clinched her first ITTF Pro Tour Women's Singles title in 2006.
Li Jia Wei won 11-6, 12-10, 11-6, 7-11, 5-11, 11-9.
Photo: Hou Yingchao, winner of the Men's Singles title at the Eurosib Russian Open in 2006
Source: ITTF
---
Related Articles:

Spanish Open: Oh Sang Eun Beats Local Hero

Polish Open: Lee Sang Su Overcomes Alexander Shibaev

German Open: Zhang Jike Proves Unbeatable

UAE Open: Four Titles for Fourth Time for China

China Supreme in Qatar

English Open: China Totally Dominant

Slovenian Open: New Generation Strikes Gold in Velenje

Jun Mizutani Captures KAL Cup Pro Tour Grand Finals Men's Singles Crown

Polish Open: Winners Secure Passports to Grand Finals

Austrian Open: Sensational 24-year old Apolonia defeats Boll in final