Ma Lin at his best in China Open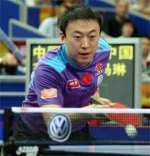 Men's Singles Final - Wang Liqin (China) v Ma Lin (China)
The final of the Men's Singles event at the Volkswagen 48th World Championships in Shanghai in 2005 revisited.
On that occasion it was Wang Liqin who won, Ma Lin has a good record against Wang Liqin but when it comes to major final, in the past Wang Liqin has usually been the winner.
First Game
There was nothing to choose between the two players in the early part of the opening game.
At 6-all, they were level.
Wang Liqin looked to play his forehand topspin, a controlled topspin to the backhand and then follow with a fierce forehand to end the point.
However, at 9-all, they were level and then serving Ma Lin had game point when Wang Liqin returned the service into the net.
Wang Liqin leveled but it was Ma Lin who once again had game point. Again, blocking consistently from the backhand, Wang Liqin leveled, 11-all. Once again it was game point to Ma Lin and this time when Wang Liqin made an error returning the service it was game over. First game to Ma Lin, 13-11.
Second Game
The second game was as close as the first with Ma Lin having the advantage as the game neared the crucial stage. He led 9-8 and then following a tremendous topspin to topspin rally won the point to have two game points.
Then a controversial point. A Wang Liqin short return hit the top of the net, a Ma Lin return did the same and the point finished with a Ma Lin shirt touched return hitting the edge or was it the side of the table?
The umpire deemed it to be an edge and Ma Lin won the game 11-8!
Third Game
Clearly confident as a result of the close win, Ma Lin went into a 6-1 lead in the third game.
He varied the services cleverly and attacked the Wang Liqin backhand at every opportunity. It was Ma Lin at his best. He never gave Wang Liqin a chance to play his forehand counter topspin. He drilled the Wang Liqin backhand time and again and had game point at 10-2.
Ma Lin won the game 11-2.
Fourth Game
Ma Lin was on top form and Wang Liqin even made errors when attempting forehands from the backhand.
Trailing 6-2 he took a `Time Out'. He needed some respite, Ma Lin was on fire.
Wang Liqin remained cool but he made errors trying to return the service of Ma Lin. Wang Liqin recovered to 9-4 but a rueful smile said it all.
It wasn't to be his day. Ma Lin won 11-4. He was the champion.
Source: ITTF
Related Articles:

Spanish Open: Oh Sang Eun Beats Local Hero

Polish Open: Lee Sang Su Overcomes Alexander Shibaev

German Open: Zhang Jike Proves Unbeatable

UAE Open: Four Titles for Fourth Time for China

China Supreme in Qatar

English Open: China Totally Dominant

Slovenian Open: New Generation Strikes Gold in Velenje

Jun Mizutani Captures KAL Cup Pro Tour Grand Finals Menís Singles Crown

Polish Open: Winners Secure Passports to Grand Finals

Austrian Open: Sensational 24-year old Apolonia defeats Boll in final