Samsonov retains Croatian Open Title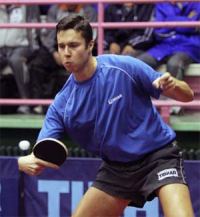 Beats Chen Qi in final
Vladimir SAMSONOV of Belarus retained his Men's Singles title at the Liebherr Croatian Open on Saturday 28th January 2006 when, in a final that went the full seven games distance, he accounted for China's CHEN Qi to capture the crown.
Twenty-nine year old SAMSONOV beat CHEN Qi 4-11, 11-5, 8-11, 11-6, 8-11, 11-4, 11-9.
It was the second time in a World Ranking event that Vladimir SAMSONOV had played CHEN Qi and it was the first time he had won, on the only previous occasion that they had met, the last sixteen of the Men's Singles event at the German Open in 2003, the China star had prevailed in six games.
Different Styles
CHEN Qi is a talented player. He can raise his game to tremendous heights and execute the most dazzling strokes whilst SAMSONOV is the man who appears to have that split second extra time, exerting outstanding control when he plays.
The match reflected CHEN Qi's ability to play like a wave, sometimes at the crest sometimes surfing below; the Chinese star went ahead, SAMSONOV levelled, the patter continued and at three games all it was parity. A decisive seventh was needed.
Good Start
"I made good start, I went ahead 7-3 in the seventh game", said SAMSONOV. "He was serving and I had really good chances on both his services to go further ahead, I made easy mistakes." CHEN Qi, to his credit never stopped fighting and strained every sinew in a desperate bid to reduce the deficit.
"He got back to 7-6 so I decided to take a `Time Out' I needed to collect my thoughts", explained SAMSONOV; the break halted the momentum of CHEN Qi, it worked in favour of SAMSONOV and he went ahead 9-6. "They weren't special or memorable points and it was becoming a very nervous game", continued SAMSONOV. "I made mistakes retuning his service and he played very well."
Recovery
CHEN Qi did play extremely well; he recovered to 9-all. "I'd experienced some problems with his service; quite often he served short, no spin on the ball, I flicked it back and then he attacked with a fast forehand and I was in trouble", explained SAMSONOV. "At 9-all he was serving but instead of serving with no spin, he served with backspin, I returned short, he tried to flick the ball and it flew off the end of the table."
It was match point to SAMSONOV. "Again on the next point he served with backspin, I returned short and he made a mistake with his first attack" said SAMSONOV. "I'd won, just"
Dangerous
"He is a very dangerous player, his services are good and his first attack is also good, it's very important that you receive service well against him", explained SAMSONOV. "He takes risks and sometimes he plays at an extremely high level but you feel it's impossible to maintain that level all the time, you are waiting for the mistakes to come."
CHEN Qi did play at a high level and he did make mistakes but it was a superb match to conclude the tournament and the crowd had a hero. "He had tremendous support, it was like a football match", said Senesa BOZIC who throughout the tournament had done a splendid job in the media centre. "They love him her", BOZIC continued. "He thanked everyone in Croatian `hvala-svema' and told everyone that he looked forward to 2007 when Croatia would host the World Championships."
Entranced
Everywhere SAMSONOV plays he is popular and with a European playing a Chinese in the final the crowd was enraptured. "I had very good support, I can speak Serbo-Croat but I make mistakes", said SAMSONOV who can speak a whole host of languages and seems to be able to learn them with the same ease he hits a table tennis ball.
The crowd's favourite was the champion, he had beaten three Chinese en route, MA Long, HAO Shuai and CHEN Qi; in Ličge in October 2005 at the Liebherr Men's World Cup he had played extremely well on the first two days but on the final day had lost to both WANG Hao and MA Lin. On that day against Chinese players he looked vulnerable but to be fair to SAMSONOV he did have a slight shoulder injury.
Higher Level
"I think they are a little high standard than the players I beat in Zagreb", said SAMSONOV. "If I'm to beat WANG Liqin, MA Lin and WANG Hao, I have to improve." The gap isn't that great and at the Liebherr Croatian Open CHEN Qi did beat WANG Hao.
At the Liebherr Men's World Cup the two Chinese players appeared to be too fast for SAMSONOV but in Zagreb he beat two of the World's fastest players, RYU Seung Min and CHEN Qi. He proved that against those who rely on speed he is more than a match.
Confidence
"I was on the border here, the match against MA Long was very close and so was the final", said SAMSONOV. "However, it's good I can still beat the Chinese players and that does give me confidence."
In Zagreb, Vladimir SAMSONOV gained in confidence, he retained his title and for the second consecutive year he was Men's Singles champion Liebherr Croatian Open.
Source: ITTF
Image: Vladimir SAMSONOV
Related Articles:

Spanish Open: Oh Sang Eun Beats Local Hero

Polish Open: Lee Sang Su Overcomes Alexander Shibaev

German Open: Zhang Jike Proves Unbeatable

UAE Open: Four Titles for Fourth Time for China

China Supreme in Qatar

English Open: China Totally Dominant

Slovenian Open: New Generation Strikes Gold in Velenje

Jun Mizutani Captures KAL Cup Pro Tour Grand Finals Men's Singles Crown

Polish Open: Winners Secure Passports to Grand Finals

Austrian Open: Sensational 24-year old Apolonia defeats Boll in final