Samsonov in Great Shape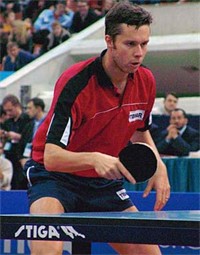 Samsonov wins Russian Open
Vladimr SAMSONOV won the Men's Singles title at the Eurosib Russian Open in St Petersburg on Sunday 6th November 2005; he beat Kalinikos KREANGA of Greece in the final 11-5, 12-10, 11-9, 11-6.
It was the fourteenth time that the two had met in World Ranking events and it was the tenth time that SAMSONOV had won; furthermore, it was his second ITTF Pro Tour Men's Singles title of the year, in January he had emerged the victor at the Liebherr Croatian Open where he had beaten Werner SCHLAGER in the final.
Crucial Stages
"I felt in really great shape today", said Vladimir SAMSONOV. "The important parts of the match were the second and third games, they were really close, I won them both and perhaps I just had that little bit more luck than Kalinikos today." A typically modest comment by Vladimir SAMSONOV, quite simply he was magnificent. "I think if I'd have lost either of those two games it could have been quite a different story, he'd have been more confident and who knows what may have happened", continued SAMSONOV. "Kalinikos is a very dangerous player, he can win a run of points and it's hard to stop him."
Against SAMSONOV, Kalinikos KREANGA was not given the opportunity to win a sequence of points and the man from Belarus increasingly exerted his stranglehold on proceedings. "I'm very pleased with how I played, from the very first match in the tournament I've been very satisfied with my play", added SAMSONOV. "I tried to attack as much as possible and to be aggressive."
Approach
He was very positive and at the recent Liebherr World Cup I felt that he had discovered a new found hunger for the sport; in Liège he was also very positive and was the only man to beat Timo BOLL, the eventual champion. However, on the final day of play he lost to both WANG Hao and then MA Lin; the former was too fast, whilst against the latter he experienced problems retuning service.
It appeared that the Chinese had done their homework and that against their leading problems SAMSONOV had problems; however perhaps I'm being a little unkind to him and there were very valid reasons why his performance on the final day did not appear to be at the level of the previous days.
Shoulder
"On the final day at the Liebherr Men's World Cup I had an injury", explained SAMSONOV. "On the first two days I'd been fine but the match against Timo BOLL had been really tough, on the final day I had a shoulder problem, the muscles were really tight and when I played strongly it really hurt."
Undoubtedly, the injury had hampered SAMSONOV who is not a player to look for excuses. However, in St Petersburg he was in top form and had he been fit enough to reproduce that form on the final day in Liège, would the results against WANG Hao and MA Lin have been different?
No Pain
"Now I feel in really good physical shape, I've no pain in my shoulder; in St Petersburg everything has worked well; service, return of service, top spins, absolutely everything", explained SAMSONOV. "I think the way I played in the final is the best I've played in the last five or six years."
Most definitely he was in blistering form and was never in any serious danger of defeat from the very start of the tournament to finish; Kalinikos KREANGA, the champion in 2004 had to settle for runners up spot; he was beaten by a player who always seems to have that split second extra to play and who in St Petersburg underlined the fact that he is one of the world's very best table tennis players.
Vladimir SAMSONOV was the champion, winner of the Men's Singles title, Eurosib Russian Open 2005.
Related Articles:

Spanish Open: Oh Sang Eun Beats Local Hero

Polish Open: Lee Sang Su Overcomes Alexander Shibaev

German Open: Zhang Jike Proves Unbeatable

UAE Open: Four Titles for Fourth Time for China

China Supreme in Qatar

English Open: China Totally Dominant

Slovenian Open: New Generation Strikes Gold in Velenje

Jun Mizutani Captures KAL Cup Pro Tour Grand Finals Men's Singles Crown

Polish Open: Winners Secure Passports to Grand Finals

Austrian Open: Sensational 24-year old Apolonia defeats Boll in final