Ryu Seung Min wins Gold for Korea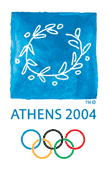 First non-Chinese player to win Men's Singles Gold since 1992
Monday, August 23, 2004
ITTF Press Release
22 year old RYU Seung Min, the world ranked no.3 from Korea, broke the Chinese stranglehold on Olympic table tennis gold medals that has existed since 1996, when he defeated the world no.4 from China, WANG Hao, 20, in a men's singles final battle of speedy penholders.
RYU won 11-3, 9-11, 11-9, 11-9, 11-13, 11-9 and had it not been for WANG's sheer nerve and fighting spirit, the score would have been easier. RYU bulleted his ferocious forehand through WANG in the first game to win easily. The weapon that WANG might have hoped that would have given him the edge over the lightening-fast moving Korean, his unusual penhold topspin backhand, let him down.
In the 2nd game, WANG's backhand got more consistent, which allowed him to move about and keep out RYU's dangerous forehand, forcing RYU to make more forehand errors. When RYU saved the first of 2 game points with a big forehand loop, WANG's corner called time-out. RYU then missed a forehand and the game score was even, 1-1.
The 3rd game was again very close, both players attacking aggressively from either side of the table with their forehands or trying to keep each other out with short pushes. RYU both won and lost more points by going for forehand winners, but the strategy paid off, including a power forehand flick of a short ball, and he won the game from 9-9. The 4th game followed a similar pattern, with RYU adding punched backhands to take a couple of points. At 10-8 up he counter-attacked a rather too pensively a WANG backhand wide to his forehand, but he made sure of winning the 2nd game point with a strong forehand loop cross-court to WANG's forehand.
RYU went to a 8-4, 5th game lead, but WANG demonstrated his character by levelling at 9-9, attacking on both wings and forcing mistakes from the Korean by awkward placements wide or at the body. Nevertheless, RYU got his first match point when a WANG Hao block just missed, but WANG saved it with a backhand loop. RYU went game point behind, missing from his extreme forehand, but won the next long rally, forcing WANG to retreat on his backhand. A WANG backhand loop to the centre, which RYU blocked into the net, and then a RYU missed forehand loop, gave WANG the game and he was back in the match.
Once again in the 6th game, RYU's aggression led to an 8-4 lead, but once more WANG heroically fought back to 9-9, pressuring mistakes from RYU. WANG then missed with a forehand push wide on his forehand and RYU had his 2nd match point. This time he made sure of victory with a strong course attack to WANG's forehand.
After the match, RYU said, "I didn't quite expect this, though I trained hard for it. I return the glory to Koreans who supported me and to my fans. It was a very important match because it was the first gold medal won by Korea at these Olympics (and the first Korean table tennis gold medal since 1988). I realise that the Chinese efforts in winning 3 gold medals still makes them invincible as a country, and that my performance was less good than WANG Hao's, because he had more pressure on him.
I think that my gold medal was because of hard training and good luck. The Chinese are still the strongest and the best and I will not be complacent. I will keep training hard, and analysing European methods and reflect that in my training, in order to become a future world champion.
My girlfriend has shared difficult times we have had together but getting a gold medal will help our relationship! I can't say about our future plans together, but I hope to continue to see her in the future in a good atmosphere!"
KIM Teak Soo, Korean coach, said, "It was a very good match and we enjoyed it. RYU's strokes against WANG Hao were very strong. WANG was very fast but not faster than us."
WANG Hao said, "I want to extend my congratulations to RYU. The match was very close and very hard. Both of us gave our best performance. We both knew it was very important. We both are young and I wanted gold very much. I will make my best effort to win the next gold medal."
---
Read what others have to say:
Related Articles:

Teams may replace doubles in 2008

Wang beats Waldner for bronze

Zhang Yining wins Women's Singles

Ryu's speed too much for Waldner

Youngest Ever Table Tennis Gold

Second doubles gold for China

Waldner beats Boll to reach Semi Final

Wang and Zhang win doubles gold

Olympic and world champion out

Fantastic Waldner