Wang beats Waldner for bronze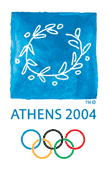 Waldner to take part in 2005 World Championships
Monday, August 23, 2004
ITTF Press Release
In a match which rarely achieved highs as a spectacle, but made up in some way in drama for what it missed in quality, China's WANG Liqin, 26, beat Sweden's Jan-Ove WALDNER, aged 38, 10-12, 11-3, 11-8, 11-7, 11-9: a clash of former world champions for the Olympic men's singles bronze medal. For WALDNER, also a former Olympic gold and silver singles medallist, it was a final chance to take a medal on his last Olympic com.petition.
Perhaps they respected each other too much or the tension of the moment was too great, but neither of the players could find their best form.
For the veteran Swede, who used to handle the pressure of the big moment so well, it seemed at times as if the match over a nervous WANG was there for the taking if only he could find something extra. In the end the better player won. WANG is the world no.1 and near technically perfect, and WALDNER, supremely gifted as he is, in theory should not have been competing with him at his age.
The first game win for WALDNER suggested that the veteran Swede just might do the impossible. There were good shots but it was also full of errors from both men. However, WALDNER got to game points first at 10-7. WANG at last got his game together, catching up with a power forehand looped winning point, a backhand counter-exchange and then a WALDNER chop-block miss of WANG's attack. However, WALDNER came out top on a strong forehand loop-the-loop exchange to win on his 4th game point.
Keeping the bronze medal dream alive, WALDNER won the first point of the 2nd game with a forehand loop down the line, but thereafter he made many mistakes and the game ran away from him, WANG winning 11-3. The Chinese started the 3rd game strongly, executing more of his fearsome forehand loops, to lead 7-2, but the Swede then had a successful series of 3 points, winning the last one with 2 strong loops to Chen's forehand, followed by a strong looped switch to his backhand. He caught WANG up at 8-8 but errors gave the game to the Chinese 11-8.
Still neither player could find their rhythm or top form in the 4th game, but WALDNER kept in the match and actually led 7-5. He made 2 misses, and a WANG edge compounded his despair, the Chinese taking 6 in a row points for the game.
Even in the 5th and final game, there was the possibility of a WALDNER fight back, both sides making attacking mistakes. A strong forehand loop finishing an attacking rally from Jan-Ove evened the score 5-5, and when he played another appaerent forehand winner from his backhand side to WANG's forehand, the umpire gave him a 6-5 advantage. But WALDNER sportingly advised that it had hit the side of the table, a gesture acknowledged by WANG.
When WANG attacked to go ahead 7-6, a WALDNER shrug (one of several) indicated that things were going against him, but he immediately came back to win a forehand loop exchange. WANG pulled away, winning 2 big attacking rallies, to get to 10-8 and 2 match points. WALDNER saved the first one with his serve, but after a Chinese time-out, he promptly miss-served into the end of the table, and WANG had won bronze!
Both players had received excellent support from the respective Chinese and Swedish contingents in the crowd, which again included the King and Queen of Sweden. WALDNER acknowledged his supporters by throwing them items of his kit.
About the match, WANG Liqin said, "We both attached great importance to it and we both played our best match so far. I am happy to beat WALDNER in a big occasion. I am very happy and satisfied with the result."
WANG's coach SHI Zhihao said about the Chinese time-out, "I took it because at first I assumed that WALDNER would look at the score board and become nervous, secondly to calm down WANG Liqin, and thirdly to adjust our strategy on his service, because we know he is one of the best at it."
Jan-Ove Walder considered that, "I had a good start but as the match was going on I lost many important points, especially in the 2nd game. It was not my day today. I was a little tired, but both of us were. It would have been fun to have gold but life goes on. It was a great tournament and I won't forget the crowd, which was on my side all of these days.
Now I am going to rest for a while, and I'll start training again in September. I will be present at the 2005 World Championships. As for the Beijing 2008 Olympic Games, it is going to be great for those who will take part in it!"
---
Related Articles:

Teams may replace doubles in 2008

Ryu Seung Min wins Gold for Korea

Zhang Yining wins Women's Singles

Ryu's speed too much for Waldner

Youngest Ever Table Tennis Gold

Second doubles gold for China

Waldner beats Boll to reach Semi Final

Wang and Zhang win doubles gold

Olympic and world champion out

Fantastic Waldner