Youngest Ever Table Tennis Gold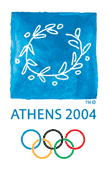 Chinaís CHEN Qi, aged 20, is the youngest ever to win a table tennis gold medal
Sunday, August 22, 2004
ITTF Press Release

Chinaís CHEN Qi, born 15 April 1984, became the youngest player ever to win a gold medal in the table tennis events at an Olympic Games, when on Saturday 21 August 2004 he won the Menís Doubles title in Athens with his compatriot MA Lin. It is a quite an incredible rise to fame, a year ago he was unknown beyond the boundaries of the Chinese table tennis world, now he is a celebrity, an Olympic champion, an accolade many great sporting personalities strive lifelong to achieve but a goal they never realize.
It is alongside MA Lin that he has enjoyed the greatest success on the ITTF Pro Tour, success that started in the autumn of 2003; the most recent victory being at the Volkswagen Open in Singapore when the duo beat KO Lai Chak and LI Ching of Hong Kong; the pair they faced in the final in Athens and whom once again they defeated.
CHEN Qi 1.74m tall, left handed, is a fast attacking player who gives his opponents little time to play long powerful strokes; he is determined, single minded when on duty but when you meet him there is a warm smile and a desire to please and co-operate. He is polite, courteous and grateful for the opportunities that have been afforded; he is a marketing managerís dream. Walk into the table tennis hall and he will greet you with a warm smile, genuinely pleased to see you and genuinely pleased that you are showing an interest in his progress. Itís impossible not to like CHEN Qi, his warm personality and sincere nature shine through.
However, when his name is announced, as he stands in the table tennis arena, ready to play you can see a determination to succeed, a will to win and a desire to do well for his beloved China. Speed is his asset and in the final of the Menís Doubles in Athens his backhand topspin attacks across the table left television commentators grasping for superlatives. He responded to the situation, he desperately wanted to win, he was enjoying the theatre, he was a central figure on the big stage and there is stage is no bigger than an Olympic final.
He was often the team leader in the Menís Doubles final, urging MA Lin to greater heights and when the latter unleashed a powerful forehand topspin winner CHEN Qi clenched his fist in triumph and grimaced in approval. He is at the forefront of the next generation of Chinese male stars, he has the potential to enjoy an illustrious career; playing he is adaptable; he enjoys the heat of competition and demonstrates a level of maturity beyond his years.
In Doha, at the Liebherr World Team Table Tennis Championships, it was his female compatriot, GUO Yue, who hit the headlines when as a member of the Chinese womenís team, she played in the final and became the youngest ever player to own the accolade of World champion. CHEN Qi was only the reserve for the Menís Team in Doha, more experienced players being understandably preferred. In Athens, GUO Yue continued to set new records for youth by becoming the youngest ever medal winner in an Olympic Games table tennis competition, clinching the bronze in the Womenís Doubles with NIU Jianfeng, an outstanding achievement and one that despite her tender years was to some extent anticipated.
One day later GUO Yue was in the Galtsi Hall again, only this time as a spectator, the day once again belonged to China and it belonged to the pair who had won the Menís Doubles. It belonged to MA Lin and of course to the amiable CHEN Qi.
---
Related Articles:

Teams may replace doubles in 2008

Ryu Seung Min wins Gold for Korea

Wang beats Waldner for bronze

Zhang Yining wins Women's Singles

Ryuís speed too much for Waldner

Second doubles gold for China

Waldner beats Boll to reach Semi Final

Wang and Zhang win doubles gold

Olympic and world champion out

Fantastic Waldner