Wang and Zhang win doubles gold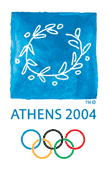 Chinese pair rated no. 1 and no. 2 in the world
Friday, August 20, 2004
ITTF Press Release
Apart from looking under a little pressure in the first game, the Chinese world champions pairing of WANG Nan, the world no.1 and ZHANG Yining, the world no.2, were in total control against Korean pen-hold hitters LEE Eun Sil and SEOK Eun Mi, to lift the Olympics women's doubles gold medal, 11-9, 11-7, 11-6, 11-6 in Athens today.
The Chinese pair, both shake-hands top-spinners, had the ability and versatility, to push to the angles where their less flexible opponents did not want the ball, to contain and absorb the Korean's drives, and to topspin the ball from both wings all round the table.
A Korean time-out at 2-4 down in the 4th game could not stem the tide, and when the Chinese called time-out at 10-6 in their favour it was merely to make sure of victory.
For WANG Nan, a 2000 Olympics gold medallist in both singles and doubles (with LI Ju), it was some consolation for her women's singles quarter-final loss yesterday to LI JiaWei (Singapore), a player incidentally who she has struggled with before, saving several match points against in the last 16 at Sydney 2000, and losing twice to since then before Athens. The left-handed WANG was much more confident and consistent today.
WANG said, "I was really disappointed from my singles defeat but my coach and teammates encouraged me mentally. Although it is regrettable about the women's singles, what mattered most was that I was prepared for winning the doubles gold medal for my team. We were well prepared for this match, which is why we won.
It's true that in my country we only want the gold medal. Second place is never good enough. In China table tennis is a very popular sport and a privileged event and it has massive support. That is either a motivation or a pressure for some people. All the Chinese team are asked for autographs.
These Olympic Games were different from past ones because due to the new rules, we played in the semi-final against another Chinese pair. Finally we won and this will bring the team's morale very high."
ZHANG described how they prepared for the match. "We were prepared in every detail and we were mentally and physically in an excellent position. WANG didn't get downhearted from her loss in the singles and we gave every thing we could at the Korean pair, which we know is very good."
SEOK Eun Mi (Korea) said, "We were very well prepared for the match, but our opponents have excellent technique and great experience and they deserved the gold medal. We have beaten them in the Asian Championships but then we had the advantage that they didn't know us.
The silver medal that we won today is going to help the development of the sport in Korea, and will give us Koreans a greater confidence in our ability to develop players who can equal the Chinese"

---
Read what others have to say:
Related Articles:

Teams may replace doubles in 2008

Ryu Seung Min wins Gold for Korea

Wang beats Waldner for bronze

Zhang Yining wins Women's Singles

Ryu's speed too much for Waldner

Youngest Ever Table Tennis Gold

Second doubles gold for China

Waldner beats Boll to reach Semi Final

Olympic and world champion out

Fantastic Waldner