Olympic and world champion out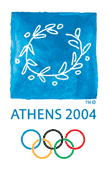 Wang Nan eliminated
Thursday, August 19, 2004
ITTF Press Release
World champion and 2000 Olympic gold medallist, seeded no.2 in Athens, WANG Nan, 25, was sensationally defeated 11-7, 11-7, 11-13, 11-9, 11-8 by 23 year old former Chinese LI Jia Wei, the world no.8 and seeded 6th, in the quarter-finals of the Olympic women's singles in Athens this evening.
Apart from a some nerves at the end of the later games, the right-handed shake-hands LI, who was a good player in China but not part of the national team, totally out played WANG. She was faster and sharper over the table, winning numerous points smashing winners into WANG's left-handed backhand, and catching her with crosscourt backhand punches to her forehand.
It was one-way traffic up to 2 games and 4-O in LI's favour, the Chinese coach then calling time out. LI won 3 more points to go to 7-0 but then, briefly, LI faltered and WANG, who mostly played too softly, then starting playing with more tactical courage. The Chinese won 7 consecutive points to level but LI pulled away to 10-7. Then LI started displaying real nerves, missing forehand kills that she had been comfortably executing earlier, WANG eventually winning 13-11.
Although there was a similar story in the 4th game, WANG pulling back from 4-9 down to level at 9-9, the last point with a tremendous crosscourt backhand counter of a LI forehand drive, this time LI responded with a similar backhand, going on to win the game 11-9. LI was slightly ahead in most of the 5th and final game, using her sharp forehand to great effect. WANG continued to fight, but never looked settled, and finally on the 2nd of 3 match points against her, missed forehand killed the ball to the sky, and LI claimed victory to rapturous applause of the Singapore supporters.
The other quarter-final was won by KIM Hyang Mi, Peoples Republic of Korea, beating ZHANG Xueling (Singapore) 11-7, 11-4, 9-11, 11-8, 8-11, 12-10.