Unbelievable Waldner and Persson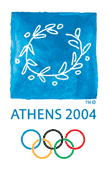 Legendary Swedes defeat Chinese second seeds
ITTF Press Release
The morning session of play in the Galatsi Olympic Stadium proved successful for European players. Dimitrij MAZUNOV and Alexei SMIRNOV of Russia beat fifth seeds CHEUNG Yuk and LEUNG Chu Yan of Hong Kong whilst Lucjan BLASZCZYK and Tomasz KRZESZEWSKI overcame CHIANG Peng-Lung and CHUAN Chih-Yuan of Chinese Taipei but undoubtedly the performance that brought the crowd to its feet was that executed by the legendary Swedes, Jörgen PERSSON and Jan-Ove WALDNER.
'Unbelievable' is the word that everyone is using to describe their efforts in knocking out the second seeds from China, KONG Linghui and WANG Hao, in the 3rd round of the Athens Olympics men's doubles, 8-11, 11-6, 11-9, 11-9, 12-10.
When the Swedes lost the first game 8-11, it seemed that they would put up a respectable showing against their much younger adversaries, KONG, 28, and WANG, 20. There were some good rallies, including a multi-stroke smashing and lobbing rally won by the Chinese attacking.
However, WALDNER and PERSSON then went up into a different gear, casting off the years. They returned tight and got in whenever they could, mainly with strong forehand loops to their opponents forehands, and there were several dynamic loop the loop rallies. They played with a speed, sharpness, athleticism and agility which they haven't shown for years. A feature was also the increased use WALDNER is making of strong backhand loops, which he threw in on strategic occasions.
The Swedes won the 2nd game comfortably but all the other games were very close, KONG and WANG playing some strong shots but never quite finding their rhythm. The Chinese corner tried to halt the Swedish tide at 2 games to 1 down by calling time-out in the 4th game when they led 9-8. But the older men responded by winning the next 3 points for the game, WALDNER producing a sensational fast forehand loop from over the table to go to game point.
In the fifth game WALDNER and PERSSON were game point down at 9-10, by they seized victory through 3 consecutive winners: a massive forehand loop from WALDNER, a PERSSON backhand kill, and a PERSSON cross-court forehand loop for the result. The audience went wild!
Afterwards PERSSON said, "Our tactics were clear and we were fast. We stepped just a little back off the table and we attacked mainly to their forehands. Now we have a chance of a medal. We didn't play well in Olympics before."
WALDNER added, "Our tactics were working well but we were also lucky in the deciding points. It was very important that we had played several times already. It was KONG's first match and WANG Hao has played only once (in the singles) so they had less time to get the feel of the ball.
We played better than we did yesterday or in practice. It is the best I have played for 4 years. We don't start as favourites, but others now have to beat us. They have everything to lose. I am in good shape, but I'm not sure that I am in good enough shape for tonight's match against MA Lin (China)."
WANG Hao commented, "We were not as good as our opponents in our co-ordination. Furthermore, we weren't so fast and powerful."
A moment of sympathy should be given KONG Linghui, who could not defend his 2000 Olympics singles gold medal, and he is now out of the men's doubles after his first Athens appearance, in an event in which was also a silver medallist last time.

Related Articles:

Teams may replace doubles in 2008

Ryu Seung Min wins Gold for Korea

Wang beats Waldner for bronze

Zhang Yining wins Women's Singles

Ryu's speed too much for Waldner

Youngest Ever Table Tennis Gold

Second doubles gold for China

Waldner beats Boll to reach Semi Final

Wang and Zhang win doubles gold

Olympic and world champion out