Brazilian Open: Samsonov wins title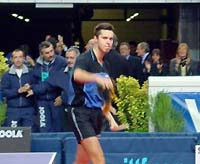 World Champion Schlager defeated in final
Monday, June 28, 2004
ITTF Press Release
Vladimir SAMSONOV of Belarus won his first ITTF Pro Tour title for over a year when he beat Austria's reigning World Champion, Werner SCHLAGER, in the final of the Men's Singles event at the Brazilian Open International Championships in Rio de Janeiro on Sunday 27 June 2004.
`Every game was close', said SAMSONOV. `We both played positively, we both tried to attack but we both made mistakes; sometimes it's better to let your opponent attack and wait for the mistakes.' SAMSONOV is one of the few players in the World who could effect such a tactic, his ability absorb a wave of attacks from an opponent and the turn the tables to his advantage by executing his own array of topspin strokes is quite incredible.
`It was a strange game but in table tennis someone has to lose and today it wasn't me', he added. `I think I've been lucky here; remember I could have gone out in the third round, I had five match points against me, had I lost one of them I would have been out of the tournament, no final and no Brazilian Men's Singles title, it's just the way it goes.'
However, winning a close match or staging a recovery can add to a player's confidence and this no doubt happened with SAMSONOV. `I received service better after that match against Adrian CRISAN and also I think I served better and that's crucial when you are faced with a player like Werner SCHLAGER; you are never sure what he is going to do next, he changes the spin and speed on the ball and he's always thinking, he keeps you guessing.'
SAMSONOV is one of the most successful players on the ITTF Pro Tour; he won the ITTF Pro Tour Grand Finals in Hong Kong in 1997 and his victory in Brazil was his ninth Men's Singles title on the ITTF Pro Tour, whilst in international tournaments against Werner SCHLAGER he has now won eight of their twelve encounters.
However, his victory in Rio de Janeiro was a first for SAMSONOV, it's the first time he has won the Brazilian Open; the last time he played was in 2000 when he reached the final but lost to LIU Guoliang of China; today in the Miécimo da Silva Sports Complex he not only won but in so doing beat the World Champion and proved to everyone that he is a definite contender for a medal at the Olympic Games in Athens in August 2004.