Schlager is World Champion!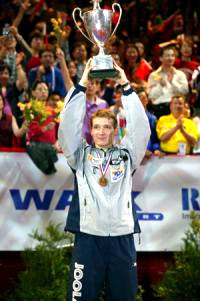 Defeats Korean defender Joo Se Hyuk in final; 1st "attacker vs defender" final in many years.
Sunday, May 25, 2003
After multiple years of Chinese dominance in Men's Singles, a European player is now World Champion. Werner Schlager of Austria defeated defender Joo Se Hyuk of Korea in a tight match that offered a tactical spectacle for table tennis lovers. It was a unique match that exhibited outstanding defensive play from the Korean player, against superb top spin strokes from Schlager.
ITTF Press Release:
Bercy, Paris Sunday 25th May 2003
Victory over JOO Se Hyuk of Korea had two important consequences for Austriaís Werner SCHLAGER. Firstly, he had become the Champion of the World and secondly he was elevated to the number one ranked position on the World Ranking List.
`Itís hard to describe how I feelí, said SCHLAGER. `If you are going to win a big event you need the luck of the draw, I was confident before the final; Iím used to playing against JOO Se Hyukís style of play.í Undoubtedly, it helped SCHLAGER that in his national team is CHEN Weixing, a defensive player who has a strong forehand attack and uses similar materials on his racket, long pimples on the backhand and reversed rubber on the forehand.

`Itís just absolutely unbelievable,í SCHLAGER added. `Players from over a hundred and thirty countries entered the tournament, over a billion play the sport in China and Iím world champion; itís dream come true!í
It was a fantastic achievement by SCHLAGER he has scaled the heights so should he now retire? `No!í came the very quick reply. `There are other goals and other things to achieve.í
Against earlier opponents SCHLAGER had taken risks but against JOO Se Hyuk he was more circumspect playing consistently with topspin strokes but not too carefully as JOO Se Hyuk was always looking for the opportunity to unleash a tirade of forehand topspins should there be a weak return.
`The tactic was to serve principally short to the forehand and vary the spin on the service,í explained an absolutely delighted Austrian coach, Ferenc KARSAI. `In the rallies it was important that he changed the tempo and so he varied the amount of topspin on the ball whilst sometimes playing strongly from the backhand in order to add to the variation.í
The plan worked and Austria has a world champion, his name is Werner SCHLAGER.




This year's World Championship highlights will be available on DVD for the first time. Subscribe to our newsletter to be notified when the DVD is available.
---
Related Articles:

Hat-Trick For Wang Nan

2003 World Championships in Paris