Dutch Open: Day 1
Dutch Open Review
Thursday, October 24, 2002
ITTF Press Releases
Dutch waiting for action
Eindhoven, The Netherlands, 23 October 2002. The 2 top Dutch players Danny HEISTER and Trinko KEEN are waiting impatiently to get going with the Dutch Open at a venue which is familiar to everybody since both the European Championships and the World Championships were held there in Eindhoven. Only one thing is different. The ITTF Pro Tour Dutch Open is held together with the Dutch Open in badminton – same venue, same weekend.
Trinko KEEN used to be the Dutch number one player, but the last months he has made a free fall down the World Ranking. Eindhoven seems to be a great place to regain his confidence.
"Of course I want to perform very well here in my own country", Trinko KEEN says, "but most important for me is to build up my performance level. I fell down the World Ranking from 18 to 31 in three months. That is too much, and therefore climbing up again is my main goal".
KEEN didn't survive the 2nd round at the German Open in Magdeburg last week, but he reached the semi-finals in Men's Doubles together with HEISTER.
"We were 2-1 up against CHEN Weixing (AUT) and Koji MATSUSHITA (JPN), but actually we had chances to go to 3-0. So reaching the semis was good but it could have been better."
Danny HEISTER agrees:
"On the other hand, we beat two great pairs - HAKANSSON/KARLSSON and SAMSONOV/SAIVE."
HEISTER, who has been performing very well recently, is also looking forward to the Dutch Open. He has a good chance to qualify for the Pro Tour Grand Finals by the end of this year in Stockholm, Sweden.
"For me it is quite important to reach those finals, I'd really like to be there, now that I am so close. What concerns the doubles it is a bit different, but still not impossible."
The Dutchman predicts that it is going to be a tough tournament for him.
"I got a minor injury when I played for my Bundesliga team on Tuesday. I have been playing a lot and then things like this happen. Hopefully I will be able to perform at my best after treatment by our physiotherapist."
Next year HEISTER will definitely be playing less.
"Before the Olympics I don't want to play too much since I don't want to be over trained and tired. Apart from that my wife and I are expecting a baby, so that makes you change priorities as well."

---
Altogether in one hall
Eindhoven, The Netherlands, 23 October 2002. It looks a bit strange, such a massive blue board in the middle of the hall. But when you are combining two big events like the Dutch Open Table Tennis and the Holland Open Badminton, preparations should be made. The result is a unique experiment with two of the greatest racket sports.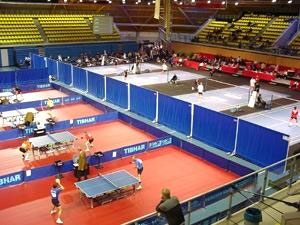 For the first time in history two Open championships are combined in one hall. The huge Indoor Sportcentrum in Eindhoven can stage both fields of athletes. Over 230 table tennis players and more than 150 badminton players are competing next to each other.
It is interesting to see that a lot of players are keen to have a look at their colleagues on the other side.
"It might look a bit strange at first sight", table tennis tournament manager Ton VAN HAPPEN says. "However I think it works really well. In this way the audience enjoys two sports for the price of one. Badminton fans can take a look at table tennis and the opposite."
His badminton colleague Eric BAKKER adds:
"The other main item is that we can keep costs as low as possible. Otherwise both of us have to hire vans, hall equipment and staff and make promotion separately, which will be far more expensive at the end. Both associations have the same sponsor, who was actually the one to come up with the idea."
On Thursday the table tennis matches are played on 8 tables - from Friday afternoon on 4 tables. All the time the badminton Grand Prix will be played on four courts.
Finally, on Friday night the whole venue will be rearranged, so that in the weekend there's just one table tennis table and one badminton court. A separate tribune will be added to the hall which creates a real arena. In that way athletes from both sports will be able to mix easily.
Combining two sports have more consequences. One press room, one bar, one organisation. "It's new and different, but it's certainly a challenge!", both BAKKER and VAN HAPPEN agree.

---
Back on Dutch soil
Eindhoven, The Netherlands, 24 October 2002. When she came into the hall some people from the Dutch city of Eindhoven turned their heads - you saw them thinking: Isn't that…?
Yes, that indeed is Jasna FAZLIC who 11 years ago participated in the Europe Top-12 in the city of 's-Hertogenbosch, which is just 30 kilometres up the road. The locals still haven't forgotten her.

Before she moved to the States, Jasna was a world class player. At the 1988 Olympics and the 1992 European Championships she won the bronze medal in women's doubles with Gordana PERKUCIN. Next to that she played at 6 Europe Top-12 tournaments.
Jasna (now REED) lives in the US these days. In the middle of the nineties she moved to Japan in order to play in the Japanese league.
"However for a while I got sick of table tennis, so I moved to America to study there. Now I am working as a geography teacher. I think that those players who are practising so many hours a day have absolutely no life!"
Jasna (FAZLIC) REED did not have much luck at the Pro Tour qualification. She lost the first match to a Jordanian player, and in the second one she was 3-0 down against Marie OLSSON (SWE). Somehow she managed to get back to 3-3, but OLSSON was eventually too strong. The doubles adventure with Otilia BADESCU (ROM) lasted exactly two rounds.
"Too bad?", Jasna says. "No, this is just recreation! It would be pretty amazing to win here some matches against girls who are practising several hours a day. But even though it doesn't look like that, I really hate losing. Still."
As said before, most people who were there vividly remember her appearance. 10 years back the young and pretty Jasna was the darling of the audience. The way she celebrated and fought every point, accompanied by short yells, is still recalled easily. What happened to those yells? "O they will come back when I catch up practising!" Jasna says laughing.

---
Belarus drama
Eindhoven, The Netherlands, 24 October 2002. Viktoria PAVLOVICH (BLR) surprisingly lost her first round match in Women's Singles against WANG Ting Ting from China. WANG, who is not even registered on the World Ranking, was best in a match which took almost one hour. Both defenders were pushing each other to perform at their best.
Viktoria is remembered for her epic qualification match for the 2000 Sydney Olympics. In Patras in Greece she fought her twin sister Veronika for the last available place to be given for the Women's Singles. Veronika, who is an attacking player, won. Ultimately Viktoria participated as well after qualifying at a later stage.. Viktoria has been on the tour for a while, but has found her way up the World Ranking only during the last two years. At the moment she is ranked 29th. This great progress ended up in her debut at the Europe Top-12 this spring in Rotterdam. She reached the semi-finals where she lost to Tamara BOROS, who eventually won the tournament. Obviously Viktoria PAVLOVICH didn't like losing in the 1st round. There was a massive dark cloud above her head when strode towards the dressing room. Some Russian swearing could be heard, and some people know that Russian swearing is unique. Beside that no real surprises were recorded in the 1st round of the Women's Singles. BOROS, STEFF and especially NI Xialian and JING Jun Hong proceeded very easily to the 2nd round.
---
Ready for a break
Eindhoven, The Netherlands, 24 October 2002. Vladimir SAMSONOV, who easily proceeded to the 2nd round of the Men's Singles, is ready for a break. The Belarus-star explained that he is tired and hopes to play well at the Dutch Open in Eindhoven, but he admits he has been in better shape.
Vladimiar Samsonov (BLR)
"The season is long and requires quite some sacrifices", SAMSONOV explains. "Last week I had a tough week with the German Open in Magdeburg, where I lost the final of the Men's Singles against MA Lin (CHN). But I was also playing in the Men's Doubles where Jean-Michel SAIVE and I reached the quarter finals."
"I have been playing a lot, I feel I am very tired now", Vladi reveals. "That's why I cancelled for the World Cup in China, next week. It is not just flying to Beijing, you have to proceed by train… I don't want that, at this stage of the season and in this physical shape it is of no use to my performance to travel to China just for a couple of days."
SAMSONOV looks tired. But looking at the venue he brightens up a bit. "In this hall I beat Zoran PRIMORAC in 1998 to become European Champion. I like to play here and hope for a good performance."
The Belarus won his first round match easily. German qualifier Christian SUSS (GER) had no chance.
Not everyone proceeded without any problems. Trinko KEEN (NED), Zoran PRIMORAC (CRO) and Werner SCHLAGER AUT) won their first round matches, but they were all struggling. The Dutchman was sweating against Armand PHUNG from France, SCHLAGER was nearly defeated and PRIMORAC was given a hard time by Jakub KOSOWKSI from Poland, number 201 on the world ranking.
For Tomasz KRZESZEWSKI (POL), winner of last year's Dutch Open, the 1st round was his final stage. He surprisingly lost to young French Sebastien JOVER, number 162 on the World Ranking - without a chance 1-4.

---
JING Jun Hong on the move
Eindhoven, The Netherlands, 24 October 2002. "You speak Mandarin?", JING Jun Hong repeats. The small Singapore player laughs. She just beat Vivien ELLO from Hungary to qualify for the last 16 of the Dutch Open women singles. On Friday she will be playing WANG Tingting from China to reach the quarterfinals.
Fortunately JING speaks some English as well. She's been playing for Dutch teams the last couple of years, so competing in the Dutch Open is almost playing at home for her.

She is part of the Pro Tour-circuit for quite a while now. Her main success was winning the bronze medal in the women singles at the 2000 Sydney Olympics. At last year's World Championships she reached the last 16, but her main performances are to be found at Commonwealth Championships. This year she added the European Club Cup of Champions when she and her club Henk ten Hoor/DTK beat German FC Langweid in the finals.
The small and JING has a solid style of play. Not too spectacular, but very difficult to beat.
"I have played at 7 Pro Tour-events so far this year", JING says, "but most of them were not very successful. Only in Qatar I reached the semi-finals. I will probably not qualify for the Pro Tour Grand Finals.. But just like the Netherlands, Sweden is very far from Singapore anyway!"
No stunts were recorded in the 2nd round of the women singles. For the first time in seven women singles Pro Tour-matches Tamara BOROS had to play more than four sets. Last week at the BOROS-show in Germany she won six times in a row 4-0! Today Elke WOSIK (GER) won two games. But that was all.