Egyptian Open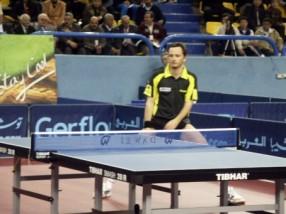 18-yr old Chinese gives top players a lesson
Sunday, February 24, 2002
Cairo, Egypt, 22 February 2002. 18 years old and "only" nr. 43 in the World WANG Hao (CHN) for the second day in a row gave a lesson to one of the World Top players. Yesterday in the semi-finals the victim was nr. 3 in the World Vladimir SAMSONOV, on Friday it was the Belgian Jean-Michel SAIVE's turn to face WANG Hao.
WANG again in the final seemed unbeatable and he sent SAIVE home with a clear 4-0 defeat. The Belgian wasn't even close getting only 7, 6, 2 and 5.
"I never expected this, I am at the Pro Tours to learn, so winning the Egyptian Open is just great, I don't think I have ever played better" says WANG Hao.
The best Chinese did not come to the Egypt Open, but the European favourites anyway had to let a Chinese run away with the title.
---
Related Articles:

Spanish Open: Oh Sang Eun Beats Local Hero

Polish Open: Lee Sang Su Overcomes Alexander Shibaev

German Open: Zhang Jike Proves Unbeatable

UAE Open: Four Titles for Fourth Time for China

China Supreme in Qatar

English Open: China Totally Dominant

Slovenian Open: New Generation Strikes Gold in Velenje

Jun Mizutani Captures KAL Cup Pro Tour Grand Finals Men's Singles Crown

Polish Open: Winners Secure Passports to Grand Finals

Austrian Open: Sensational 24-year old Apolonia defeats Boll in final