Butterfly Michael Maze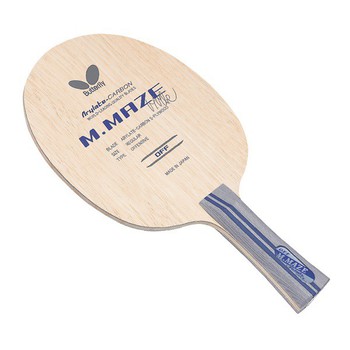 Price: $107.99


$132.99
Save $25.00 (19%)

Denmark's rising young star, Michael Maze helped design and plays with this Arylate/Carbon blade. Similar to our popular Timo Boll Spirt model, this blade offers a little more speed and even more control. With a med-hard feel this is a perfect blade for hard hitters. Its good speed to control ratio make the M. Maze destined to become a classic.

Speed: 85
Control: 80
Weight: 85g
Ply: 5+2
---
Customers who purchased Butterfly Michael Maze also purchased:
Ordering Information
Blade FAQ and Guide to Choosing a Blade - what you need to know when buying a blade.
Compare Blades - side-by-side blade rating comparison.
Blade weight Please note that the actual weight of a blade may vary by up to 8g.
Free shipping over $50 to continental US locations.
Best Price Guarantee We guarantee to have the lowest prices (shipping included) when compared to US table tennis stores. Please tell us if you find a lower USA price.
Reviews of Butterfly Michael Maze (27)
Submit a short review about Butterfly Michael Maze.

View all 27 Reviews
| | |
| --- | --- |
| | External Review on August 28, 2013 |
This is the first composite blade I really like. A bit more forgiving than TBS with a softer feeling at contact. Plays fast with a more direct throw angle. FL grip is outstanding. The limba outer ply gives a sense of security along with high speed. Works great with H3 Prov, Mark V Max, T64FX 2.1, Liked this blade much better than TBS with it's koto outer plys. This blade is better for a player uses a mix of shots due to the added ball feel. A solid 10 out of 10.
---
| | |
| --- | --- |
| | External Review on August 15, 2013 |
well built blade, you can confidently play with this one, wont let you down. comparing with tbs, tbalc, mmaze is slightly slower on the same weght band, better for driving and smashing but slightly weaker for looping. its about compromise, you cant have everything in life.
---
External Review on May 31, 2012
great blade ! it has speed and very much control i like play with this.
---
| | |
| --- | --- |
| | Review by janekb on February 26, 2012 |
Great blade,one of few thats doesnot feel had heavy with heavy tensor rubbers,good weight balance also powerfuul and gentle when needs to be.Plays very good with tenergys,top notch blade.
---
| | |
| --- | --- |
| | External Review on January 23, 2012 |
Great blade! Very controllable and fast simultaneously. This blade is very good to non top players but it allows fast spins even if your technique is not perfect. It's great offensive blade and I loved it!

View all 27 Reviews