Butterfly Viscaria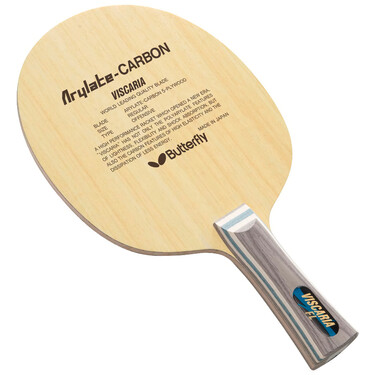 Price: $121.99
$132.99
Save $11.00 (8%)

Sorry, this item is currently out of stock. You may ask us to send you a restocking notification when this item is back.
Flared Handle
Combines the Arylate features of lightness, flexibility, and shock absorption (less vibration) with the Carbon features of high elasticity (springiness) and minimal dissipation of energy (energy not wasted, more power). Koto outer plies, Balsa center ply. VISCARIA's compact head size makes it ideal for quick re-looping right off the bounce.

Speed 87
Control 72
Weight 90
Ply 5W, 2A/C
---
Customers who purchased Butterfly Viscaria also purchased:
Ordering Information
Blade FAQ and Guide - what you need to know when buying a blade.
Compare Blades - side-by-side blade rating comparison.
Blade Weight Variations - Actual blade weight may vary by up to 8g.
Blade Sealing/Varnish
You may
add blade sealing
for this blade. Sealing prevents wood splintering.
Free shipping over $50 to continental US.
Best Price Guarantee We guarantee to have the lowest prices (shipping included) when compared to US table tennis stores. Please tell us if you find a lower price.
Reviews of Butterfly Viscaria (25)
Submit a short review about Butterfly Viscaria.

View all 25 Reviews
External Review on June 6, 2014
I posted a review on this blade here:

http://tabletennisonline.org/blades/butterfly-viscaria-review/
---
External Review on May 8, 2014
Good blade! Very good to CONTROL and very fast! :D
---
| | |
| --- | --- |
| | External Review on April 9, 2014 |
Nice and amazing blade! Love the flexibility as I'm BH oriented allround player...
---
| | |
| --- | --- |
| | External Review on February 20, 2014 |
nice blade,good control for all the speed who have the viscaria.
---
| | |
| --- | --- |
| | External Review on February 9, 2014 |
Hard to describe it in just few words ... simply amazing. Great feeling and control, quite fast but is a topspin machine due to its longer dwell time, very well balanced (mine is 84g). Almost impossible to go wrong with Viscaria. Top notch blade, no doubt
Update: 08.07.2014 I don't know why such a controlable blade is rated 8.1 for control? If Timo Boll ZLF is rated 9.2 Viscaria should be rated at least 9.0 or even 9.2 (depending on the particularities of each blade, weight, etc). These two blades (TB ZLF and Viscaria) have almost the same control but Viscaria is faster and has, by far, a much better feeling. Great blade.
Note: I discovered that one user Malong1999 rated tihs blade 4.7 for control even if he says " Very good blade" (see above). A rating of 4.7 for Viscaria's control must be an error (I assume it wasn't because the ratings were to high as this rating it's among the first ratings). That's the cause why Viscaria has just 8.1 rating for control. Most players rated Viscaria around 9.0 for control. This is more realistic.

View all 25 Reviews