Butterfly Timo Boll Spirit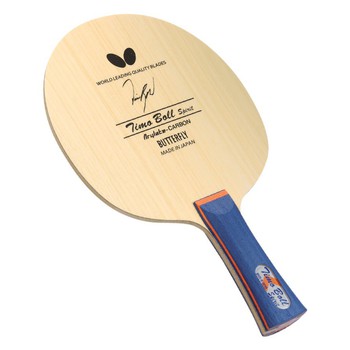 Price: $107.99


$132.99
Save $25.00 (19%)

A great Carbon blade for the European style of looping play. Good balance of speed and control. Used by young German sensation, Timo Boll.
Speed: 83
Control: 79
Weight: 89
Ply: 5W, 2A/C
---
Customers who purchased Butterfly Timo Boll Spirit also purchased:
Ordering Information
Blade FAQ and Guide to Choosing a Blade - what you need to know when buying a blade.
Compare Blades - side-by-side blade rating comparison.
Blade weight Please note that the actual weight of a blade may vary by up to 8g.
Blade Sealing/Varnish
You may
add blade sealing
for this blade. Sealing prevents wood splintering.
Free shipping over $50 to continental US locations.
Best Price Guarantee We guarantee to have the lowest prices (shipping included) when compared to US table tennis stores. Please tell us if you find a lower USA price.
Reviews of Butterfly Timo Boll Spirit (66)
Submit a short review about Butterfly Timo Boll Spirit.

View all 66 Reviews
| | |
| --- | --- |
| | External Review on December 1, 2013 |
My blade is Timo Ball Spirit with Butterfly Tenergy 64 on FH, and Butterfly Tenergy 25 FX on BH. I use to play with Timo Boll Spirit! Great blade - loved it!
---
| | |
| --- | --- |
| | External Review on November 19, 2013 |
I think that this blade is a very good blade if you are a looper, but also would be good for anything else. Touch shots and short game don't suffer because of the good control of this blade.I use it with T05 and T80, and it's a bomb. I recommend to try it.
---
| | |
| --- | --- |
| | External Review on September 23, 2013 |
I bought it today and just played with it. But wow... What a blade! I'm angry with myself that i hesitated and didn't buy it last year. I play with Tenergy 05 on both sides. I feared if it would be fast with this rubber but no. It is excellent for an all-round attacking player and made for close-to-table and mid-distance play. It has a very very good control and you have no problem with blocking. Looping is very easy. I love top-spinning with it. It is just a dream. A little bit expensive but worth its price.
---
| | |
| --- | --- |
| | External Review on May 2, 2013 |
Classic blade !
It's very balanced and stable. You can topspin and smash very easily. The serves and the blocks are very good too.

pushing needs getting used to, the ball bounces a bit high.

Apart from that, that blade is perfection.
---
| | |
| --- | --- |
| | Review by bat_man on March 8, 2013 |
first of all I reckon it looks pretty pristine. This bat I believe it is great for beginners since it performs every style well so they can chose what path they want to. It performs greatly at any distance for me.


View all 66 Reviews