Butterfly Korbel SK7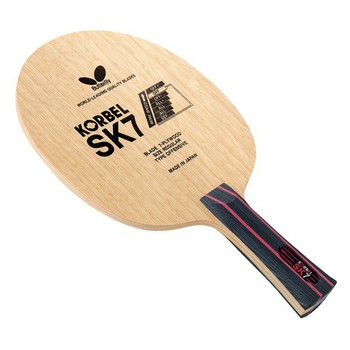 Price: $72.99


$90.99
Save $18.00 (20%)

Sorry, this item is currently out of stock. You may ask us to send you a restocking notification when this item is back.
The KORBEL SK7 is an attacking blade that offers a relatively soft and controlled feeling even at high speed. All wood 7-ply blade, heavy, but the weight is concentrated in the handle, well balanced. It is the ideal answer for playing without the need to use refresh gluing.
Speed: 80
Control: 85
Feel: Medium
Weight: 95g
---
Customers who purchased Butterfly Korbel SK7 also purchased:
Ordering Information
Blade FAQ and Guide to Choosing a Blade - what you need to know when buying a blade.
Compare Blades - side-by-side blade rating comparison.
Blade weight Please note that the actual weight of a blade may vary by up to 8g.
Free shipping over $50 to continental US locations.
Best Price Guarantee We guarantee to have the lowest prices (shipping included) when compared to US table tennis stores. Please tell us if you find a lower USA price.
Reviews of Butterfly Korbel SK7 (14)
Submit a short review about Butterfly Korbel SK7.

View all 14 Reviews
| | |
| --- | --- |
| | External Review on October 10, 2011 |
This, rigid, soft and slow. A poor replacement for a Butterfly clipper wannabe. The sad thin is that is costs more money and does not exceed it in anyway.
---
| | |
| --- | --- |
| | External Review on June 12, 2011 |
its a good blade for long hours of play becouse of its consistency but its quite slow in critical hours (long rallyes AWAY from the table) anyway its a very good blade for an all wood one
---
External Review on April 27, 2011
Very nice blade. Little faster than Korbel but has a soft feel, which is perfect for my liking. Very good spin from my setup (2x T05) and still enough rigidity for hitting high balls consistently. I think this is the perfect wood blade but it may be too heavy for some. Mine is 95 grams but for me it is no trouble. It is soft, but fast, and has good feeling and enough rigidity to hit balls.
---
| | |
| --- | --- |
| | External Review on April 11, 2011 |
it is a excellent blade takes a bit of time to get use to it but its worth taking the time to get use to it

but i dunno what rubbers suit it so any help will be helpful
---
External Review on November 20, 2010
Great blade but I feel slow (maybe because of the rubber: Sriver EL and Mark VAD?). Korbl SK7 is good blade for allround attacker. Soft feel.

View all 14 Reviews