Butterfly Primorac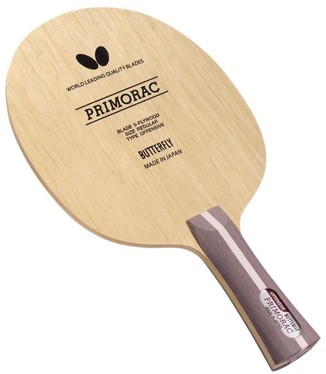 Price: $59.99


$72.99
Save $13.00 (18%)

It's African wood (Limba) allows the ball to stay on the racket longer providing good feel and control. A good all-around offensive blade. Compact head-size. BTY's best selling blade of 1995.
Speed: 75
Control: 78
Weight: 87
Ply: 5
---
Customers who purchased Butterfly Primorac also purchased:
Ordering Information
Blade FAQ and Guide to Choosing a Blade - what you need to know when buying a blade.
Compare Blades - side-by-side blade rating comparison.
Blade weight Please note that the actual weight of a blade may vary by up to 8g.
Blade Sealing/Varnish
You may
add blade sealing
for this blade. Sealing prevents wood splintering.
Free shipping over $50 to continental US locations.
Best Price Guarantee We guarantee to have the lowest prices (shipping included) when compared to US table tennis stores. Please tell us if you find a lower USA price.
Reviews of Butterfly Primorac (29)
Submit a short review about Butterfly Primorac.

View all 29 Reviews
| | |
| --- | --- |
| | External Review on December 4, 2013 |
I'm an intermediate player, and I had a chance to play with different blades throughout my skill build up for 2 years now, the best overall blade that helped me to improve my skill was the BTY Primorac, control is where this blade excels which also suits my style. definitely for beginners, its fairly fast, Primorac has low spin, but it can varies based on the rubber you use, but when you find the wright set up for the blade and fits your style,its a BEAST!!. I've tested Primorac with (DHS H3 Neo, Acuda S2 & S3) but the best set up I have and still use is (Rakza 7 forehand & Rakza 7 soft backhand). Highly recommended.
---
External Review on September 22, 2013
The best blade to begin your TT-carreer with.

Step up to Korbel, when your technique has improved and you need something faster.
---
| | |
| --- | --- |
| | External Review on May 31, 2013 |
that's the only serious blade i have ever played with.i bought it during early ninetys,it's made in japan with old butterfly metal logo on the handle.weight 87 gr.it is very nice playin .nice speed ,great control and great accuracy on short game ,no vibrations at all.
---
| | |
| --- | --- |
| | External Review on March 11, 2013 |
This blade is a classic for good reasons. It provides very good control and sufficient power for allmost all strategies. I play it with Palio CJ8000 Extreme (BH) and Butterfly Sriver L (FH) and that makes a fantastic combination for an allround-play. The straight handle feels a bit short to me and the consistency differs. My blade is only 75g others can be up to 90g and more as my team mates hve experienced. So if you´re weight-sensitive you better check in advance.
---
| | |
| --- | --- |
| | External Review on November 3, 2012 |
I have been playing with this racket for 2 years because of its brilliant all-round characteristics. It is a great racket for beginners. The racket has a good feel and a comfortable handle. I use it with Sriver 2.1 mm on both sides. It is a very effective combination.

Lately I have been improving and after getting comfortable with this racket I can control the ball very well. The Primorac is a very good racket if you want control. After much practice I can place the ball where I want to from my opponents counters and hard loops. It is a great racket if you want to make your opponent run around.

However the problem is that I noticed the racket is very slow. The ball will not go very fast off the racket which is good if you are just starting out. This contributes to the control factor as you can place it where you want to. However now the racket is too slow. When I do a counter of course my opponent just smashes the ball back. My loop kills do not surprise my opponent because the ball comes off my racket slowly. After you get better you might want to switch to an OFF racket or even the other OFF- rackets which are mostly faster than the Primorac.

Overall this is a great racket for beginners that will serve you for a long time. After a while you will need to switch to a new racket for more speed. Don't get the Primorac Carbon, it seems like the successor but it actually is a huge step up in speed and your shots will go flying. You will want to get an OFF racket after you finish with the Primorac or a slightly faster OFF- racket.

UPDATE: Its been about two years since I got the Primorac and I have improved greatly. I now use the Zhang Jike Arylate/Carbon blade which is very nice and comfortable handle but practically no speed difference between this and the Primorac. If you use good technique this blade will give you all the power and control you could possibly want. The topspin is enormous. If you like to be able to execute loops that go at 120 mph and have so much spin, it goes in a beautiful curve and kicks up like a Mexican jumping bean when it hits the other side of the table, this is the blade for you. Also chops far from the table dig in beautifully and counter loops have a great woody feel to them. The best all-round blade on the market. A must-buy. Good for beginners, intermediates, advanced players, and professionals.

UPDATE:
After using the Zhang Jike for almost a year, I have switched back to the Primorac. This is not because I cannot control the Zhang Jike, but the Primorac has equal speed and more control and has a such a beautiful feel as I cannot describe how nice it is. So much control, I can hit a dime with blocks and loops. Now that I have developed into more of a defensive player I have found this is perfect with Xiom Vega Asia 2mm on the FH for extreme counterloops and BTY Feint Long II 1.3 mm on the BH for incredible chops from 10 ft from the table it is the best all round blade and defensive blade enough speed for attack and slow enough for the chop buy it! Don't buy sriver with it its overrated buy Xiom rubbers. I use Feint Long because it is the only rubber that bty makes that is not overrated (COUGH COUGH Tenergy).

View all 29 Reviews