Butterfly Primorac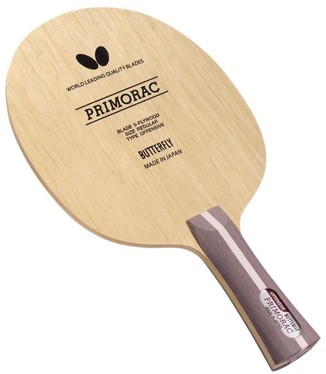 Price: $59.99


$72.99
Save $13.00 (18%)

Sorry, this item is currently out of stock. You may ask us to send you a restocking notification when this item is back.
It's African wood (Limba) allows the ball to stay on the racket longer providing good feel and control. A good all-around offensive blade. Compact head-size. BTY's best selling blade of 1995.
Speed: 75
Control: 78
Weight: 87
Ply: 5
---
Customers who purchased Butterfly Primorac also purchased:
Ordering Information
Blade FAQ and Guide to Choosing a Blade - what you need to know when buying a blade.
Compare Blades - side-by-side blade rating comparison.
Blade weight Please note that the actual weight of a blade may vary by up to 8g.
Blade Sealing/Varnish
You may
add blade sealing
for this blade. Sealing prevents wood splintering.
Free shipping over $50 to continental US locations.
Best Price Guarantee We guarantee to have the lowest prices (shipping included) when compared to US table tennis stores. Please tell us if you find a lower USA price.
Reviews of Butterfly Primorac (32)
Submit a short review about Butterfly Primorac.

View all 32 Reviews
| | |
| --- | --- |
| | External Review on April 20, 2014 |
very good blade with more control
---
| | |
| --- | --- |
| | External Review on April 3, 2014 |
Heard so much about this blade being the benchmark of 5 plys so I ordered it with an Anatomic handle and waited ages for it to arrive from inters pl. Club mate uses an old one and can't find anything to replace it with. The new one I got is nothing like the old one. In a nutshell it was no great shakes but I may not have got a good one. Weighed a respectful 85 grams.
---
| | |
| --- | --- |
| | External Review on February 9, 2014 |
The Best Control Blade, need a fast rubber to this blade you need a more speed rubber to this blade
---
| | |
| --- | --- |
| | External Review on December 4, 2013 |
I'm an intermediate player, and I had a chance to play with different blades throughout my skill build up for 2 years now, the best overall blade that helped me to improve my skill was the BTY Primorac, control is where this blade excels which also suits my style. definitely for beginners, its fairly fast, Primorac has low spin, but it can varies based on the rubber you use, but when you find the wright set up for the blade and fits your style,its a BEAST!!. I've tested Primorac with (DHS H3 Neo, Acuda S2 & S3) but the best set up I have and still use is (Rakza 7 forehand & Rakza 7 soft backhand). Highly recommended.
---
External Review on September 22, 2013
The best blade to begin your TT-carreer with.

Step up to Korbel, when your technique has improved and you need something faster.

View all 32 Reviews