Butterfly Primorac Carbon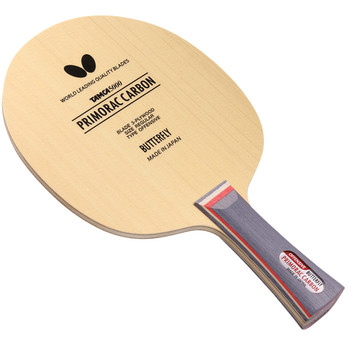 Price: $86.99


$109.99
Save $23.00 (21%)

Sorry, this item is currently out of stock. You may ask us to send you a restocking notification when this item is back.
The Carbon blade designed and used by Zoran Primorac. Combines Carbon and Cypress wood for power play. Cypress outer plies, Balsa center ply and compact head size.
Speed: 95
Control: 67
Weight: 99
Ply: 3+2
---
Customers who purchased Butterfly Primorac Carbon also purchased:
Ordering Information
Blade FAQ and Guide to Choosing a Blade - what you need to know when buying a blade.
Compare Blades - side-by-side blade rating comparison.
Blade weight Please note that the actual weight of a blade may vary by up to 8g.
Free shipping over $50 to continental US locations.
Best Price Guarantee We guarantee to have the lowest prices (shipping included) when compared to US table tennis stores. Please tell us if you find a lower USA price.
Reviews of Butterfly Primorac Carbon (32)
Submit a short review about Butterfly Primorac Carbon.

View all 32 Reviews
| | |
| --- | --- |
| | External Review on November 28, 2013 |
amazing blade.. fast & good control...
---
| | |
| --- | --- |
| | External Review on October 12, 2013 |
External Review on September 22, 2013
Very good blade, nice design.

Fast, but not as fast as Schlager carbon or Iolite Neo. still controllable.

Hard touch. Worth a try, if you can still find one.

Dont know, why butterfly stopped making it.
---
External Review on July 26, 2013
I posted a review on this blade here:

http://tabletennisonline.org/blades/butterfly-primorac-carbon-review/
---
| | |
| --- | --- |
| | External Review on July 24, 2013 |

View all 32 Reviews