Butterfly Ishlion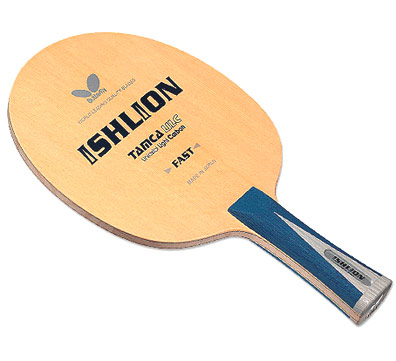 Price: $129.99


$159.99
Save $30.00 (19%)

Sorry, this item is currently out of stock. You may ask us to send you a restocking notification when this item is back.
Flared Handle
In 2007, Butterfly unleashes its second generation
Uniaxial Light Carbon Blade, the Ishlion.
This unique construction process has all of the carbon fibers pointing in the same direction.
This allows our engineers to actually increase the density of the graphic fibers; while reducing the weight of the graphite by 18%. The result is a light blade which features great power even from mid-distance with increased ball feeling.
Uniaxial Light Carbon pushes the technology of blade manufacturing to a new level and the Ishlion can do the same for your game.
Speed: 96
Control: 75
Weight: 76g
Feel: Hard

---
Customers who purchased Butterfly Ishlion also purchased:
Ordering Information
Blade FAQ and Guide to Choosing a Blade - what you need to know when buying a blade.
Compare Blades - side-by-side blade rating comparison.
Blade weight Please note that the actual weight of a blade may vary by up to 8g.
Blade Sealing/Varnish
You may
add blade sealing
for this blade. Sealing prevents wood splintering.
Free shipping over $50 to continental US locations.
Best Price Guarantee We guarantee to have the lowest prices (shipping included) when compared to US table tennis stores. Please tell us if you find a lower USA price.
Reviews of Butterfly Ishlion (11)
Submit a short review about Butterfly Ishlion.

View all 11 Reviews
| | |
| --- | --- |
| | External Review on June 13, 2013 |
nice blade for my game. speed, drive and spin. Good for blocks and counter. Also have good control with it.
---
External Review on June 13, 2013
Nice blade. I use with Bluefire M3 on FH (2.0) and Xiom Zava on my BH (2.1). Nice on FH and on my BH produce very fast and impredictable shot. If I swich side when I play game, I can do it without effort and nothing change too much!!
---
| | |
| --- | --- |
| | External Review on February 11, 2013 |
very fast, great for blocking and hitting. looping is quiet difficult. lack of spin power. excellent for hard hitters. loopers, find another blade..
---
| | |
| --- | --- |
| | External Review on August 6, 2012 |
Very good blade, fast, good control and very light blade, i`m using this blade and tenergy 05 in forehand and 05 fx in backhand and the feeling is awsome
---
| | |
| --- | --- |
| | External Review on June 1, 2012 |
Great blade, I'm using it with a Tenergy 05 and a Bryce Speed FX and the result is just fantastic!

View all 11 Reviews