Butterfly BalsaCarbo X5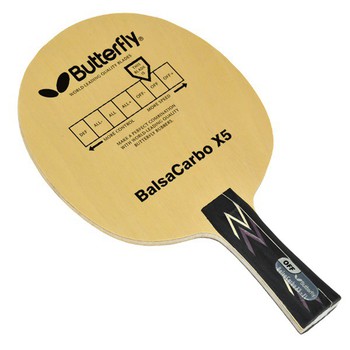 Price: $84.99

The BalsaCarbo X5 is the first Balsa blade to be made by Butterfly. The X5 features light weight and great touch, produced by the Balsa center core. Its two Carbon Layers ensure that there is always more than enough point-winning power. Unique to the X5 is its soft feel, which makes over the table play, especially blocking, effortless and very effective. While designed for close to the table attacking play, the X5 has enough power to execute strong topspins from mid-distance as well. Balsa blades are growing increasing popular worldwide and one rally with the BalsaCarbo X5 will show you why!
Speed: 82
Control: 80
Weight: 80g
Feel: Soft
Ply: 5 (3W/2C)
---
Customers who purchased Butterfly BalsaCarbo X5 also purchased:
Ordering Information
Blade FAQ and Guide to Choosing a Blade - what you need to know when buying a blade.
Compare Blades - side-by-side blade rating comparison.
Blade weight Please note that the actual weight of a blade may vary by up to 8g.
Blade Sealing/Varnish
You may
add blade sealing
for this blade. Sealing prevents wood splintering.
Free shipping over $50 to continental US locations.
Best Price Guarantee We guarantee to have the lowest prices (shipping included) when compared to US table tennis stores. Please tell us if you find a lower USA price.
Reviews of Butterfly BalsaCarbo X5 (30)
Submit a short review about Butterfly BalsaCarbo X5.

View all 30 Reviews
External Review on October 27, 2013
Very nice blade if you still looking for your faveroite blade its worth to give it a try. I would recomend it to players with fast hand wrist action as with its light weight it should add even more spin to your game. I had it with Bryce speed 2.1 on both sides ( don't know how that happened ) it was great for block even a blind man or a child could block the heaviest top spin and the bat was never ''cathing'' incoming spin. If someone chop to long to my backhand every topspin BH was a killer fast, low over the net and if anything came back I was ussualy there with my smash forehand to finish the job. however with this combination of rubbers I found dificult to apply good spin on my serve also short serve was a matter of practice. Forehand was very flat good for smashes but this combination had very low throw angle hence margin for!
error was next to nothing on topspin to topspin play. Moving on with my rubbers I could not match this blade with any tenergy ( the only one that was looking promising was T80 1.9 ) It could be due to playing with Bryce for so long and adapting to this rubbers on Balsa. I have move on since than to Innerforce ALC but still got this blade as it never really disapointed me and got my game better at the time I was using it. But it just a step on the leader rather than final destination.
---
External Review on September 22, 2013
The design of the handle is ugly and the surface of the racket gets easily damaged.

Whenever you change rubbers, you will peel off some wood.

I even had to reglue the surface layer, because it was loose.

Dont know what is wrong with butterfly these days, but the quality of this blade was really bad!
---
| | |
| --- | --- |
| | External Review on July 22, 2013 |
basswood-carbon-balsa-carbon-basswood
Reviewed with Friendship Cream Transcend 2.0 rubbers.
At first you can find this blade a bit strange because of dull fell and a bit smaller sweet spot than expected.
You'll need a couple of weeks to adjust and then it gets really good.
- pretty high throw angle
- soft feel with enough speed
- nice for looping, even better for flat hitting and smash
- enough power for mid distance play and even a bit further from the table
- good for push and underspin
- block is not so great, no room for error
- handle a bit thick and not so comfortable
Nice off- blade for versatile play. Not worth 80 $ - not even close :-)
---
| | |
| --- | --- |
| | External Review on June 16, 2013 |
. I have played with this since it is on the market. Great vibration, but after 2 years effective playing this effect not so effective. I have played with fast and medium soft rubbers on it. For forehand i use a fast rubber, for back hand i use a very soft rubber. Close to the table soft rubber more than advantage on this blade.you need 10-20 hours practice with this blade for the best performance. (vibration, balance, speed). This blade very sensitive, so try with medium - soft rubbers first. You are able to put on hard and fast rubbers later on. Nowadays this is my secondary blade, and i will use it forever.
touch play game - excellent
Spin game - medium
Close to the table- excellent
Smashes -excellent
Pushes - excellent
Looping game - medium
Far from the table- medium
control - 7/10
overall:8,6/10 because it is a very light and sensitive blade.

Works with soft butterfly rubbers very well, can be a weapon, but carefully with hard and fast rubbers on it because Hard to find the balance and you will hit the net or out of the table.
---
External Review on March 4, 2013
I am more of a close to the table/blocker/hitter. I can generate a good opening loop with my BCX5 but after that I am usually hitting, blocking and pushing. For my style of play it is perfect.

I have better looping paddles. I wouldn't buy this paddle if you only loop or loop a lot back from the table. It works but there are better blades out there for this kind of play.

My BCX5 is as light as advertised. I can get away with putting heavy cheap Chinese rubbers on the FH and BH and still have a paddle that weighs less than 180 gm because the blade is light. My BCX5 has held up well over 3 years with only a few edge nicks. I have replaced the rubber many times but the blade surface has held up well due to a light sealing.

Another thing I like is that the blade side is about the same as my TBS so I can swap rubbers between the blades and they fit well.

View all 30 Reviews