Butterfly BalsaCarbo X5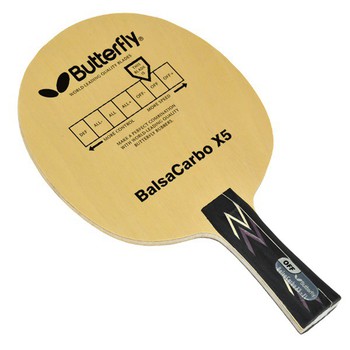 Price: $84.99

The BalsaCarbo X5 is the first Balsa blade to be made by Butterfly. The X5 features light weight and great touch, produced by the Balsa center core. Its two Carbon Layers ensure that there is always more than enough point-winning power. Unique to the X5 is its soft feel, which makes over the table play, especially blocking, effortless and very effective. While designed for close to the table attacking play, the X5 has enough power to execute strong topspins from mid-distance as well. Balsa blades are growing increasing popular worldwide and one rally with the BalsaCarbo X5 will show you why!
Speed: 82
Control: 80
Weight: 80g
Feel: Soft
Ply: 5 (3W/2C)
---
Customers who purchased Butterfly BalsaCarbo X5 also purchased:
Ordering Information
Professional racket assembly is offered on most orders free of charge. Please add a blade and 2 rubber sheets to the shopping cart to activate the racket assembly option on the shopping cart page. See Racket Assembly FAQ. You may also want to assemble your blades and rubber sheets yourself.

Instead of choosing rubber sheets and a blade, you may select a ready-made racket from our rackets section.

Blade FAQ and Guide to Choosing a Blade - what you need to know when buying a blade.

Compare Blades - side-by-side blade rating comparison.

Blade weight Please note that the actual weight of a blade may vary by up to 8g.

Blade Sealing/Varnish You may add blade sealing for this blade. Sealing prevents wood splintering.

Free shipping over $50 to continental US This applies on all items except Newgy items.

Best Price Guarantee We guarantee to have the lowest prices (shipping included) when compared to US table tennis stores. Please tell us if you find a lower USA price.
Reviews of Butterfly BalsaCarbo X5 (26)
Submit a short review about Butterfly BalsaCarbo X5.

View all 26 Reviews
External Review on March 4, 2013
I am more of a close to the table/blocker/hitter. I can generate a good opening loop with my BCX5 but after that I am usually hitting, blocking and pushing. For my style of play it is perfect.

I have better looping paddles. I wouldn't buy this paddle if you only loop or loop a lot back from the table. It works but there are better blades out there for this kind of play.

My BCX5 is as light as advertised. I can get away with putting heavy cheap Chinese rubbers on the FH and BH and still have a paddle that weighs less than 180 gm because the blade is light. My BCX5 has held up well over 3 years with only a few edge nicks. I have replaced the rubber many times but the blade surface has held up well due to a light sealing.

Another thing I like is that the blade side is about the same as my TBS so I can swap rubbers between the blades and they fit well.
---
| | |
| --- | --- |
| | External Review on February 15, 2013 |
Excellent versatile blade!
Outstanding drive and control!
---
| | |
| --- | --- |
| | External Review on July 13, 2012 |
Simply try it and you will love it forever.Balsa core with two layers of carbon gives you full security in all variations of play in the range of passive to active/aggresive strokes.Try it with Xiom Sigma Euro on FH and Friendship 563-1 (2,0 mm) on BH.The blade with those rubbers weights ideal 170 g for controlled game. This combination is ideal for allrounder as well for attacker.
The blade is perfectly manufactured, suggest anatomic handle.
---
| | |
| --- | --- |
| | Review by thuy_nguyen75 on April 25, 2012 |
After reading all the positive reviews about this blade, i gave it a try. At first, i like it because it meets all my expectation: light, comfortable, good controlling.
However, after 2 weeks using it, i can say that it's a very fragile blade. I hit it once on the table and its edge got chipped/teared.
I think the light weight of it doesn't make this blade a high quality last long equipment.
---
| | |
| --- | --- |
| | External Review on March 23, 2012 |
let me tell you guys i love this racket I've tried lots of the more expensive blades from butterfly and the carbo x5 with donic f2 rubbers on both sides is a very nice weapon great feel lots of power and very light. i love it best feeling racket around.or maybe i just found a nice combination of blade and the wright rubber

View all 26 Reviews