Butterfly Sriver G3 FX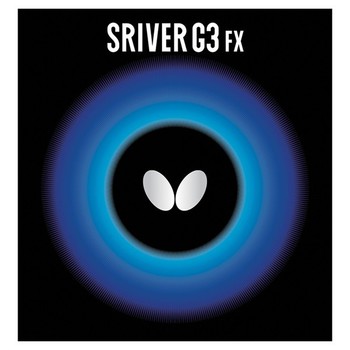 Price: $44.99


$54.99
Save $10.00 (18%)

SRIVER G3 FX Enables Greater Control
The softer version of SRIVER G3 offers advanced control and more ease of play. Do you look for a more flexible style of play?
Now this is available with upgraded speed and spin through the High Tension Technology developed by BUTTERFLY.
The answer is SRIVER G3 FX.
Speed: 135
Spin:100
Density: 32
---
Customers who purchased Butterfly Sriver G3 FX also purchased:
Ordering Information
Rubber FAQ and Guide to Choosing Rubber - what you need to know when buying rubber.
Compare rubber ratings - compare ratings to other sheets.
Free shipping over $50 to continental US locations.
Best Price Guarantee We guarantee to have the lowest prices (shipping included) when compared to US table tennis stores. Please tell us if you find a lower USA price.
Reviews of Butterfly Sriver G3 FX (28)
Submit a short review about Butterfly Sriver G3 FX.

View all 28 Reviews
| | |
| --- | --- |
| | External Review on October 13, 2013 |
Used it briefly for forehand 2.1mm on timoboll w7. It is very similar to g3 with slightly different touch feel. Has the speed of bryce and control of solution. Great for top spin play but is slightly slow for a modern day fh rubber. It works best for backhand. Performs equally well for far table as sriver g3 but tad slow for close table. Good Control and throw angle so it's best for all round players and Def players. Don't be fooled by the softness because when you add power in your shots, it can be very fast.
---
| | |
| --- | --- |
| | External Review on July 29, 2013 |
I use Sriver G3 FX with sardius blade and TSP Super Spinpips on my backhand. I use it almost 1 year and i have change my rubber with the same type for 2 times (once every six months). Sardius make the ball run very fast, and with G3 FX on it, you don't have to use a lot power to make the ball running. Good for chopping and spinning, but you have to be aware with the angle of your blade if you want to block the ball.
---
| | |
| --- | --- |
| | External Review on April 25, 2013 |
love this rubber can do everything well this is the rubber for me never will change my fh rubber chop / serve / loop / smash a breeze with this rubber
---
| | |
| --- | --- |
| | Review by hasib on April 24, 2013 |
It may be good for intermediate players; but definitely not for advanced ones. I used to play with Sriver previous gen on my Sardius Carbon. It worked like a charm.

Now I use G3 FX 1.9mm on my FH and Bryce FX on BH with Schlager Carbon blade. My serves don't have spin anymore, blocks are slow and loops are so so. Unless I hit with lot of arm swing, it doesn't generate speed. This is much slower and softer rubber than I anticipated.
---
| | |
| --- | --- |
| | External Review on July 10, 2012 |
good for beginner, good control, good speed and enough spin, easy to play with...

View all 28 Reviews