Butterfly Tackiness Chop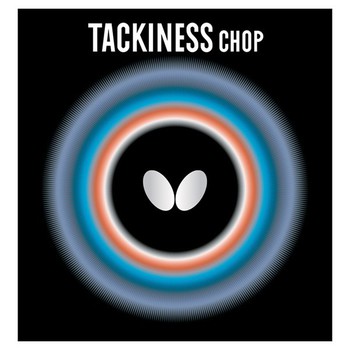 Price: $29.99


$36.99
Save $7.00 (19%)

TACKINESS - C Super Performance Smooth Soft Rubber Breaking Frictional Barrier! Manufactured with the most advanced modern production techniques. TACKINESS is a newly developed "BUTTERFLY" weapon that provides more frictional coefficient performance by about 20% compared with any other high class rubbers.
Speed: 65
Spin: 100
Control: 88
Density: 32
Reglue Effect: Medium
---
Customers who purchased Butterfly Tackiness Chop also purchased:
Ordering Information
Rubber FAQ and Guide to Choosing Rubber - what you need to know when buying rubber.
Compare rubber ratings - compare ratings to other sheets.
Free shipping over $50 to continental US locations.
Best Price Guarantee We guarantee to have the lowest prices (shipping included) when compared to US table tennis stores. Please tell us if you find a lower USA price.
Reviews of Butterfly Tackiness Chop (17)
Submit a short review about Butterfly Tackiness Chop.

View all 17 Reviews
| | |
| --- | --- |
| | External Review on July 29, 2013 |
The best rubber for chopper. I use this rubber in my first 3 years learning to play table tennis. I have a lot of good memories with this rubber. I recommend this rubber for beginner player to find a good concept of play and learning basic strokes.
---
| | |
| --- | --- |
| | External Review on September 15, 2012 |
great for chopping, lots of backspin, but note that durability is bad, rubber wears out very quickly - it may claim a gold medal in a contest of undurable defensive rubbers
---
| | |
| --- | --- |
| | External Review on September 18, 2011 |
Its a good defensive rubber or a rubber for a begginer that is learning the basics has a good throw angle and u can generate lots of spin with it
---
External Review on July 14, 2011
This is my 1st chopping rubber, before trying chop 2.

I just don't like the ball flight compared to tack chop 2, because the back spin is too obvious and the ball fly too high that is easier to return compared to tack chop 2.
---
| | |
| --- | --- |
| | External Review on July 12, 2011 |
Nice spin and control on chops but looping is different, the consistency in looping is way lower than chopping.

View all 17 Reviews