Butterfly Tenergy 05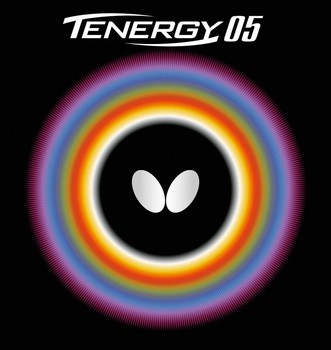 Price: $64.99


$79.99
Save $15.00 (19%)

This is the first rubber to feature Butterfly's new "Spring Sponge". Spring Sponge feels hard yet its new technology allows it to hold the ball on the racket longer. Tenergy 05 combines this new explosive sponge with a new tensioned top-sheet with maximum surface grip.
The result is a rubber that produces massive amounts of spin on serves and topspin drives. Tenergy is also the fastest most explosive rubber in our line all without the use of any speed-glues or tuning. Tenergy will keep its speed throughout the life of the rubber without need for any special treatments. Finally a rubber that will make you feel like you are playing in the days of the 38 mm ball again!
Speed: 130
Spin: 115
Density: 36
---
Customers who purchased Butterfly Tenergy 05 also purchased:
Ordering Information
Rubber FAQ and Guide to Choosing Rubber - what you need to know when buying rubber.
Compare rubber ratings - compare ratings to other sheets.
Free shipping over $50 to continental US locations.
Best Price Guarantee We guarantee to have the lowest prices (shipping included) when compared to US table tennis stores. Please tell us if you find a lower USA price.
Reviews of Butterfly Tenergy 05 (111)
Submit a short review about Butterfly Tenergy 05.

View all 111 Reviews
| | |
| --- | --- |
| | External Review on November 30, 2013 |
this rubber is too fast for me always overhitting the ball not really forgiving plus short game need to take care i personally think its over rated for the price
---
| | |
| --- | --- |
| | Review by schnugt on November 14, 2013 |
I was playing with Sriver G3.

I honestly didn't see much of a change at lower speed strokes. The difference really comes in on the hard topspin hits. The speed to spin ratio enables the ball to get back down on the table much easier than with the Sriver.
---
| | |
| --- | --- |
| | External Review on November 5, 2013 |
Zillion reviews on this rubber at this point in time.

When it first hit the market (think around 2009 early on...) it had WOW factor to it definitely. It was the best tension rubber by a mile.

Times have changed since those days. Now days we have many rubbers with similar performance and many with better performance.

Most companies can produce high end rubbers now days in there own way and style. Some produce hi speed tensors, some produce hi spin tacky rubbers, mixtures of those two and many other top performers. Today is more of a price question then anything else for me. It is very hard to justify any Tenergy prices at this point. Xiom, Stiga, Tibhar and so on produce just as good or even better rubbers then Tenergy at half of the price. If BTY was not such a huge company i am not sure if those prices would hold at all.

Plz do not get me wrong in regards to Tenergy. This rubber is phenomenal to play with. In a way it is a another classic (Sriver, Mark, Hurricane....).

So to sum it up :

Pros: one of the better performing rubbers on the market (in all aspects).

Cons: you can get better rubber for less money.

Recommendations:

I would recommend this rubber to the players that dont have to buy sheets themselves.
I would also recommend this to a time travelers who can go back to 2009 or so and be the first in line to have the playing edge without glue.

Definitely would not recommend this rubber any more to people who actually have to purchase their own sheets.

Enjoy TT and have fun:)
---
External Review on October 2, 2013
| | |
| --- | --- |
| | External Review on September 5, 2013 |
I started using this rubber with butterfly chuan chih yuan. It is a fast rubber, with good control and awsome spin. T05 is heavy and hard. You have to train a lot to get adapted. This rubber is very good for forehand, because you can do heavy strokes. With T05 you can do very fast and spinny serves. Cut and topsin are incredible. If you are a good player, then this rubber is perfect.

View all 111 Reviews